Your kitchen cabinets are not meant to last forever. And you'll know it when you see ugly stains that won't come off, dents, chips, broken pieces, etc. But even before their "best before" date comes, you will start to see obvious signs of wear screaming back at you.
Because of their highly aesthetic role, your kitchen cabinets need to look good always. So there's no two ways about it. An update is necessary every now and then.
Read on to see the different approaches you can implement to restore your kitchen cabinets via your kitchen remodel San Diego contractor.
Re-paint them
Paint is one way to turn back the hands of time and the punishment your kitchen cabinets have taken. A fresh coat of paint makes your cabinets and drawers look like new. And while you're at it, you get to re-seal them and add some décor and color to your kitchen.
But painting is not an outright option for any kitchen cabinet remodel. It only works if the cabinets in questions are in good structural condition and just need cosmetic work. For example, they have faded or have stains on them. In such cases, painting is a good option. And of course, you get to save the wood and maybe even save some money in the process.
Can I just paint over painted cabinets?
Some prep work is needed so that the new paint work looks professional. And the most important prep work here is sanding. Sanding the cabinets also helps the new coat of paint to attach better.
Have them wrapped
Did you know that you can wrap your kitchen cabinets? Yes, that's right. Vinyl wrapping has expanded beyond the automobile industry and into the kitchen. It's a growing trend in kitchen remodeling.
Having your kitchen cabinets wrapped has several great benefits. They include:
There are many design options to choose - from plain colors to patterns and abstract designs.
The vinyl wrap looks just like the real thing, if not better.
Vinyl wrapping will hide dents, cracks, and other structural damage on your cabinets.
It's an affordable option.
Are vinyl wrapped kitchen doors any good?
Vinyl wrapping kitchen cabinets is okay. However, note that it's not for all types of cabinets. Vinyl wrapping works best for smooth surfaces so it's more applicable for boards. Your kitchen remodeler will advise you appropriately on this.
Sand them down and reseal
Not a fan of adding paint to wood? And vinyl wrapping is not your style? There is another option that just might be what you need.
Can kitchen cabinets be sanded and re-stained?
You can keep your San Diego kitchen cabinets all natural by simply sanding them down and applying layers of sealant. This option is great for cabinet doors made of solid wood. Through this process you get to retain the beautiful wood doors. The sanding process removes all surface-level wear and the coating protects the wood for some time to come. You even have the option to stain the wood. Common stain colors include shades of grey and brown.
If you stain the cabinets with a clear-looking seal, you get to achieve a traditional rustic or bohemian style. And if you stain, especially with a grey color, you give the cabinets an instant modern look.
Buy made-to-order replacements and have them installed
You have probably seen ready-to-buy kitchen cabinets online or in stores such as IKEA. Those, too, are an option. Made-to-order kitchen cabinets are often cheaper than custom-made options. They are an easy and quicker option too. So if you are aiming for a budget kitchen remodel in San Diego then you want to explore this option too.
There are many designs to choose from. But make sure that you get the sizing correct. You can have your contractor do the measuring and ordering if you're not very handy.
Order custom replacements with your choice of fittings
For a high-end kitchen, we recommend custom kitchen cabinets. These are made just for your kitchen and as per your exact specifications. Custom kitchen cabinets cost more but it's the way to go if you want a spectacular kitchen that will wow your guests and keep you impressed day after day.
Your custom cabinets' contractor will discuss with you all the design details. That includes the colors, trims, as well as placement and design of fittings.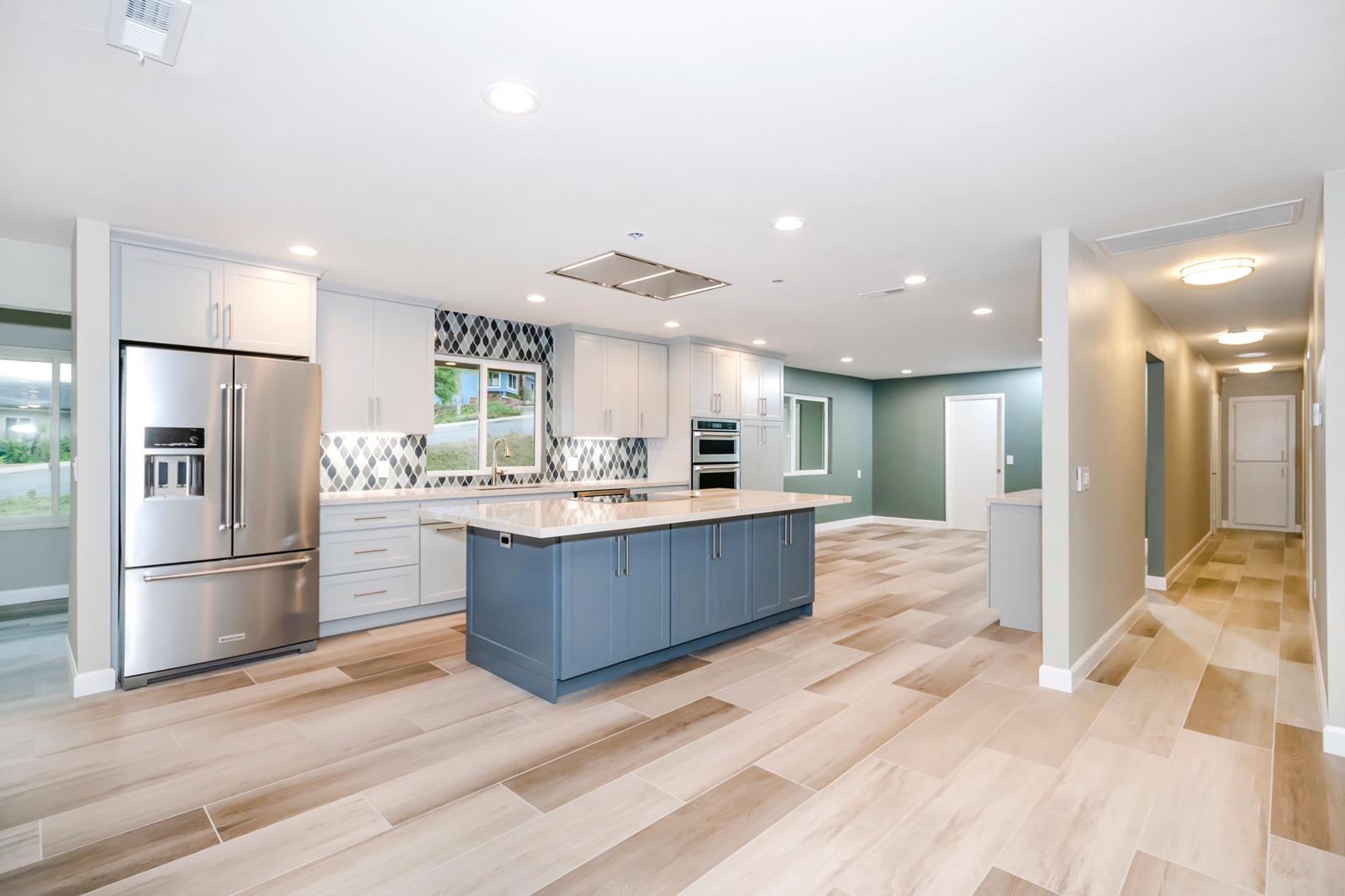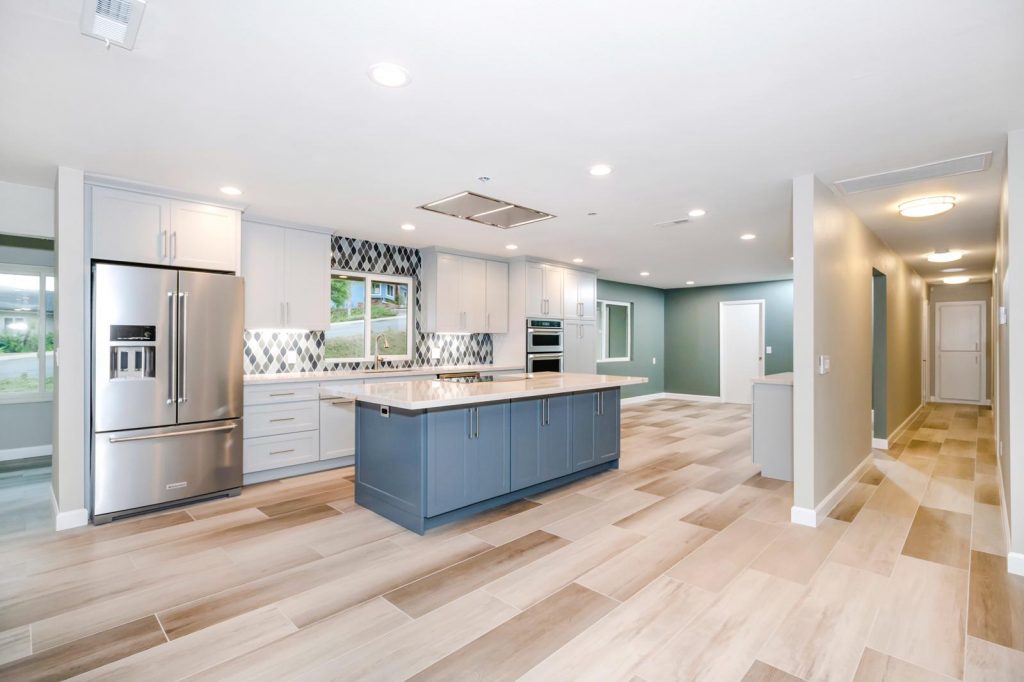 Are custom cabinets of better quality?
For the most part, yes. Custom kitchen cabinets are often made with higher quality materials and better workmanship overall. They also offer a much better fit.
Why updating your kitchen cabinets is always a good idea:
You should update your kitchen cabinets because they do need to be changed or refreshed over time. They are highly-wearable surfaces in the kitchen, especially the doors/faces.
How do I know if my kitchen cabinets are good quality?
Some of the signs of wear in kitchen cabinets include:
Loose hinges or handles
Dents or chipping
Cracks or broken pieces
Loose joints
Stains
Peeling surfaces
Water damage
Fire damage
How often do you need to replace kitchen cabinets?
This will vary from kitchen to kitchen. In some cases the kitchen cabinets can only last a year and on others they can go for 5 years or more. Your contractor should make this assessment during your kitchen remodel San Diego project.
When you step into a kitchen, the cabinets are one of the first surfaces you take note of. And whenever you are using the kitchen, the cabinets are one of the areas you interact with the most. That all goes to show just how important it is to have beautiful and functional cabinets. So don't skip the kitchen cabinets during your remodel. As we have shown you above, there are many options to toy over. And some of them are quite budget-friendly.
Reach out to us at Creative and Build San Diego and we can help you design a kitchen that will put a smile on your face for a long time to come.
Kitchens are one of the most focal rooms that sway potential home buyers on whether to buy a property or move on to the next. And after being lived in for a while, a kitchen definitely experiences wear and tear. And that will necessitate a remodel. That is where we come in as kitchen remodeling San Diego experts.
We know kitchen renovations in and out. We have dealt with all manner of projects with varying budgets. So when we say we can help turn your San Diego kitchen around, we mean it!
Let's look at how to plan a kitchen remodel, including costs, finding a kitchen contractor, and more.
Is it worth it to remodel my kitchen?
Are kitchen remodels worth it? They most certainly are. Right off the bat, a kitchen remodel adds great value to your property. This is regardless of whether you want to sell or not. Even if you plan never to sell, it feels great knowing that your property has great value.
Another reason why a kitchen remodel is so worth it is that it adds utility and functionality. For those who don't like to cook as much, having a kitchen with a great layout, enough counter space, and great appliances can make it easier and more fun to get in there and cook every day. And if you already love cooking, remodeling your kitchen will make your work easier and even save time when doing so.
And of course, a kitchen remodel makes your kitchen look great. And why shouldn't it? Great lighting, fresh paint on the walls, modern faucets, and updated cabinets are a delight to have in any kitchen.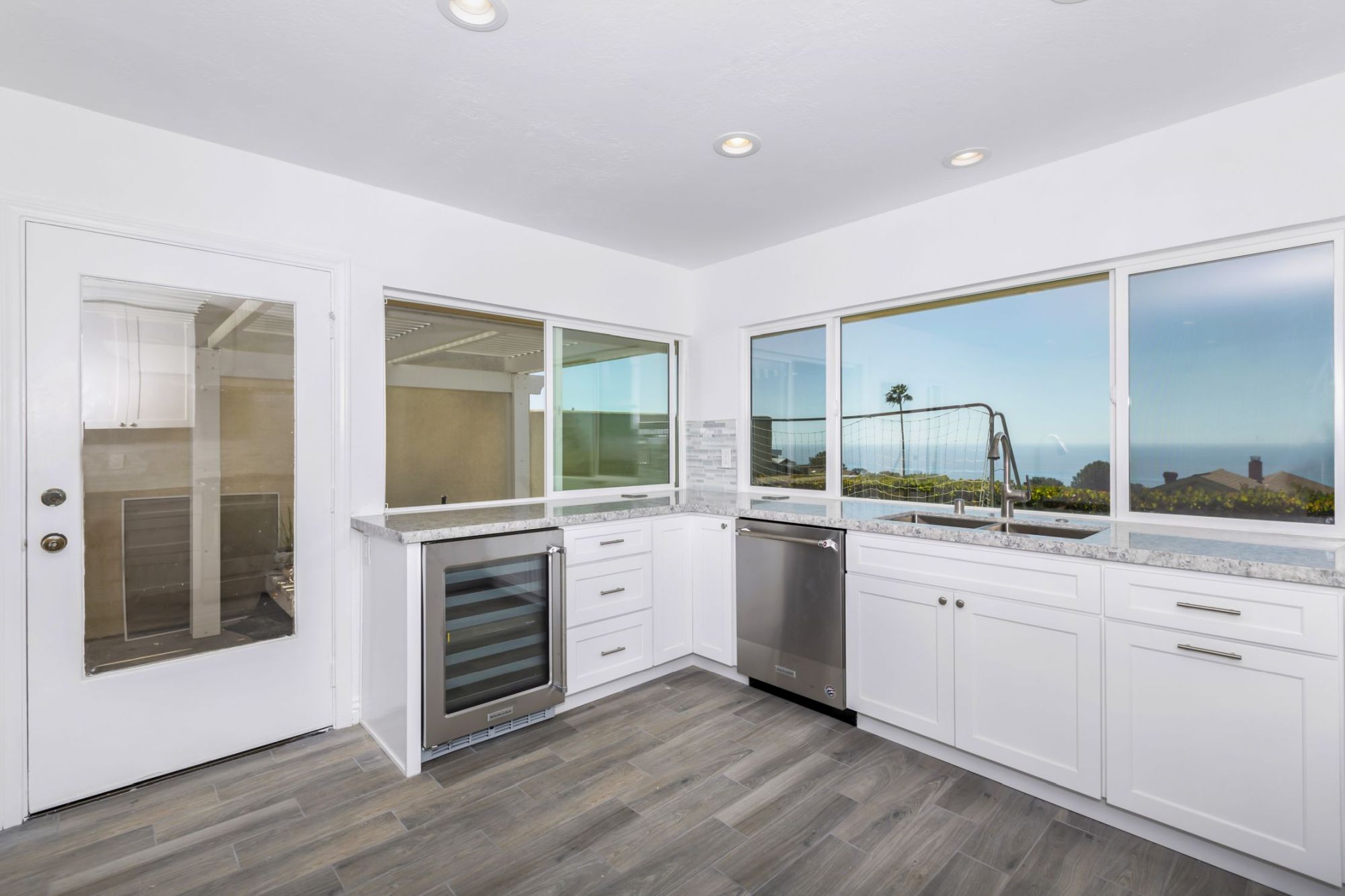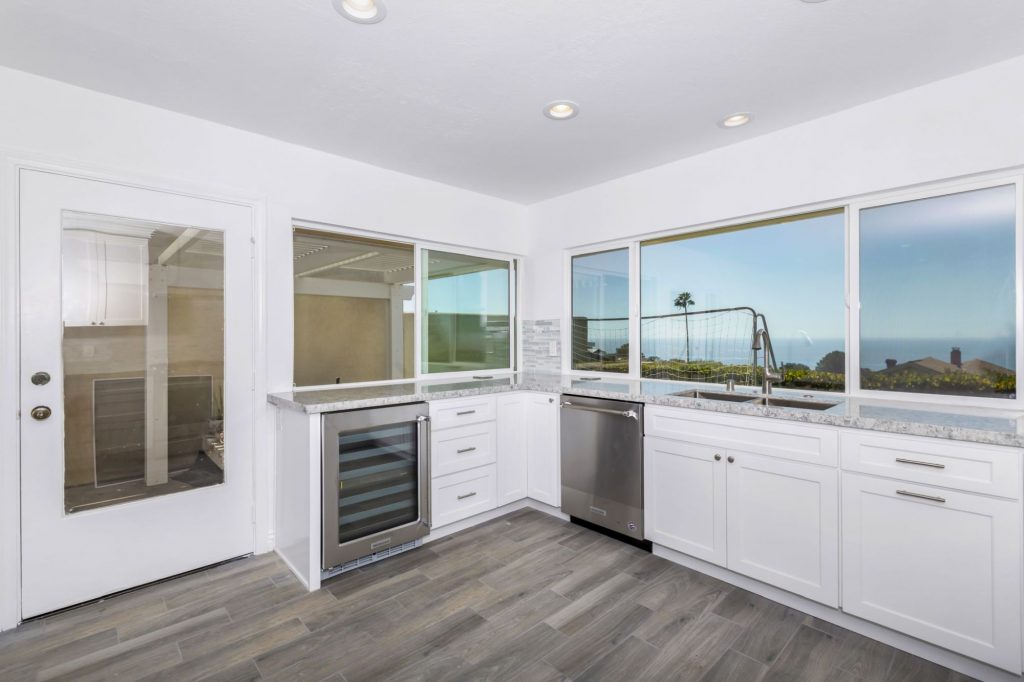 Which areas of a kitchen remodel should you focus on?
What should I consider when remodeling a kitchen? This is where you should start the moment you start planning a kitchen remodel. Consider the following areas:
Get enough storage space for all your cutlery, cookware, and supplies. You can replace the cabinets, add more, or refresh the ones you have.
Some areas of a kitchen wear off quickly due to lots of daily use. These are inexpensive areas that would really improve your kitchen experience. They include faucets, drawer handles and knobs, backsplash, etc.
Think about a good kitchen layout that maximizes use of the space and allows you to easily entertain on special occasions. Adding an island or adding more counter space is a great place to start.
New floors can transform the look of your kitchen. You can go with ceramic tiles, hardwood, vinyl, laminate, and other options.
Make sure your plumbing system is in order. Have it checked for leaks and pressure especially.
New kitchen appliances cost a dime but they add lots of value to a kitchen. Some of the best appliances to upgrade are cookers, fridges, and ovens.
Kitchen dining furniture can make your kitchen look sophisticated and relaxed. And, you get to use the furniture to eat in the kitchen right on the countertop when you want to. That comes in really handy when you have kids or are entertaining.
Great lighting in a kitchen cannot be emphasized enough. You'll be surprised what modern lighting fixtures can do to the ambience of your space.
How much does a kitchen remodel cost in San Diego?
You cannot avoid the topic on money when it comes to a remodel. Find out how much it costs to remodel a kitchen remodel.
How much should I budget for a kitchen remodel?
A kitchen remodeling San Diego project will set you back about $40,000 to $80,000 on average. However, depending on the size of your space and what you want done, the general bracket is about $25,000 to $150,000.
What is the most expensive part of a kitchen remodel?
The most costly items on your kitchen remodel will be cabinets, new appliances, countertops, and of course labor charges. If there are any walls that need to be knocked down or moved that will cost some considerable money.
How to find a San Diego kitchen contractor
Finding a good kitchen remodeling contractor is a big part of getting the process right. This is one of the areas where you can make or break the project. If you hire an unprofessional company/contractor then your remodel will have failed before even starting.
So take time to look around, ask for referrals, ask the questions that matter, and look at reviews to see what past customers have to say about them.
How can I find someone to design my kitchen?
You can start on the internet by searching for "San Diego kitchen remodel contractor". You can also look through review sites including Google GMB listings. There is also the option to ask family, friends, and colleagues. And you can always look around the city and see if you spot any design shops around.
How to plan your kitchen remodel
You have already seen what a kitchen remodel in CA can cost. But now you need to find out how much yours will need. Ask for quotes from a few kitchen remodeling San Diego companies.
Find a kitchen contractor
Look for a reliable San Diego company to handle the project. Give yourself a few weeks to look around. As we said earlier, make sure they are experienced, licensed, insured, and bonded too.
Decide what work is to be done
With a contractor selected, discuss what works are to be carried out in your kitchen. The budget will play a role in deciding this. Your contractor will also guide you and help refine your list of needs.
Decide when to start the remodel
As the client, discuss with your kitchen contractor when the project should start. Also have them inform you how long the project will take to complete.
Plan how to prepare food during the remodel
If the kitchen remodel is taking place in a property that you are living in, plan how you'll prepare food in the midst of the remodel. You can eat out, microwave most of your meals, or prepare meals in advance and refrigerate them.
--
Do you need help planning your kitchen remodel, deciding what areas need work, or even coming up with a budget? Let us help. Give us a call today.
Your bathroom is one place in your home that you should never let deteriorate. Because it is a place where one goes to clean up or freshen up, the bathroom area should always look clean and tidy. But after some use over a couple of years, any bathroom will need some work. And that is where we come in as Creative Design and Build Inc.
We are one of the best bathroom remodeling San Diego CA companies. And we can help you transform any shabby or worn master/kids'/guest bathroom just like that.
Let's talk about what this involves in terms of costs, timelines, value, and more.
Do you need a bathroom remodel?
Most bathroom remodels are driven by these 4 factors. Which of the following four reasons would you say is behind your quest to remodel your San Diego bathroom?
Change the style of a bathroom
You might want to change the style of a bathroom if you've outgrown it, or if you just moved into a new apartment/house. It's important to give such a personal space your own feel and style.
Add more features to a bathroom
As your needs and preferences change/evolve, it is important to update your bathroom by adding what you need and taking away what you don't. For example, you might want a bigger tub or "his & hers" double vanities instead of just one.
If you have not made any updates to your bathroom over time it is important to do so when you are able. Doing so will improve the value of your house. But more importantly, it will increase the quality of life you're enjoying at home.
Add more space to a bathroom
Most homeowners would love to have a bigger bathroom any day. With a bigger bathroom you can have a bigger shower area, a bigger tub (or just a tub), a bigger vanity where you can get ready in style, and more wiggle room in general.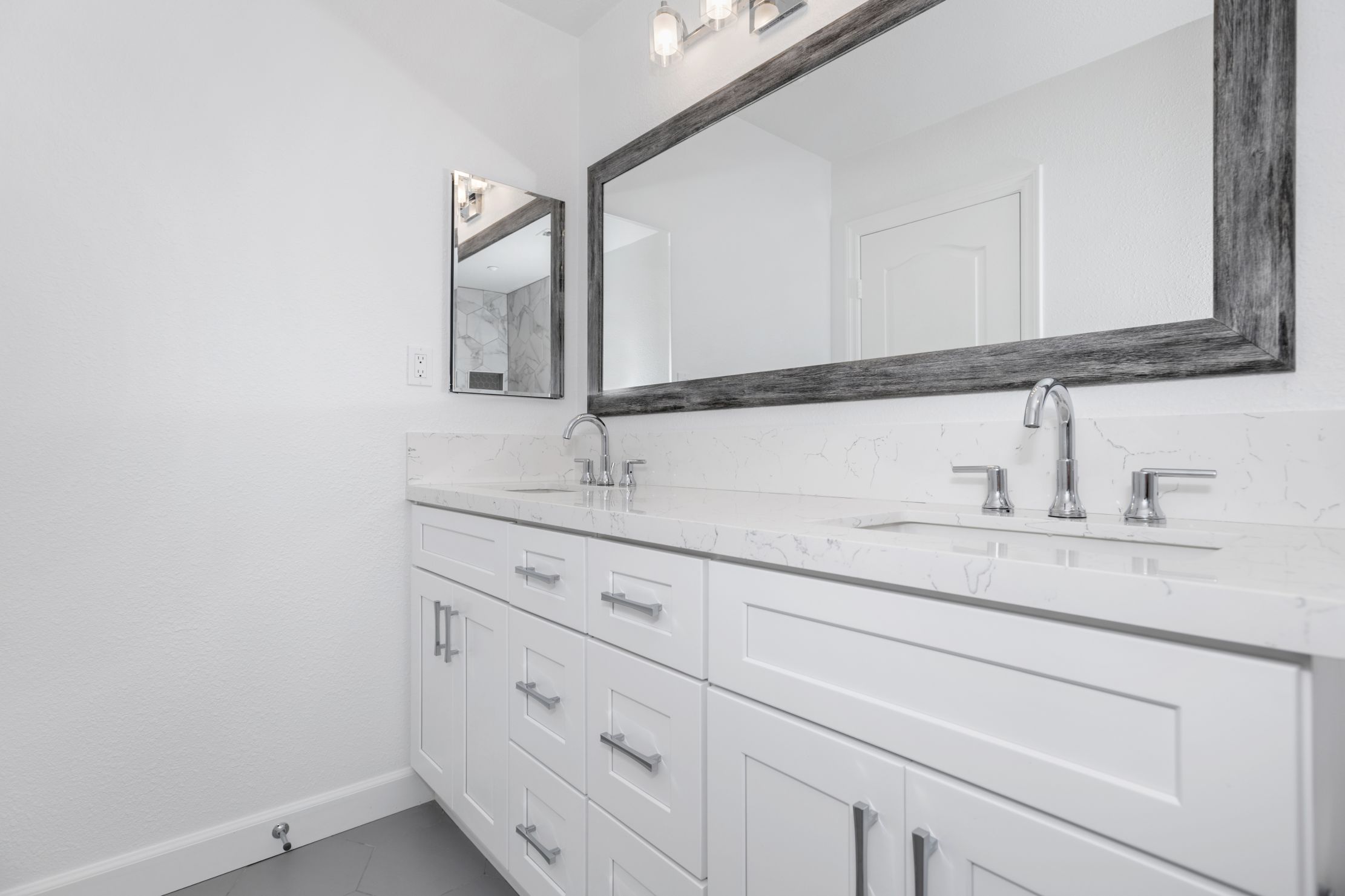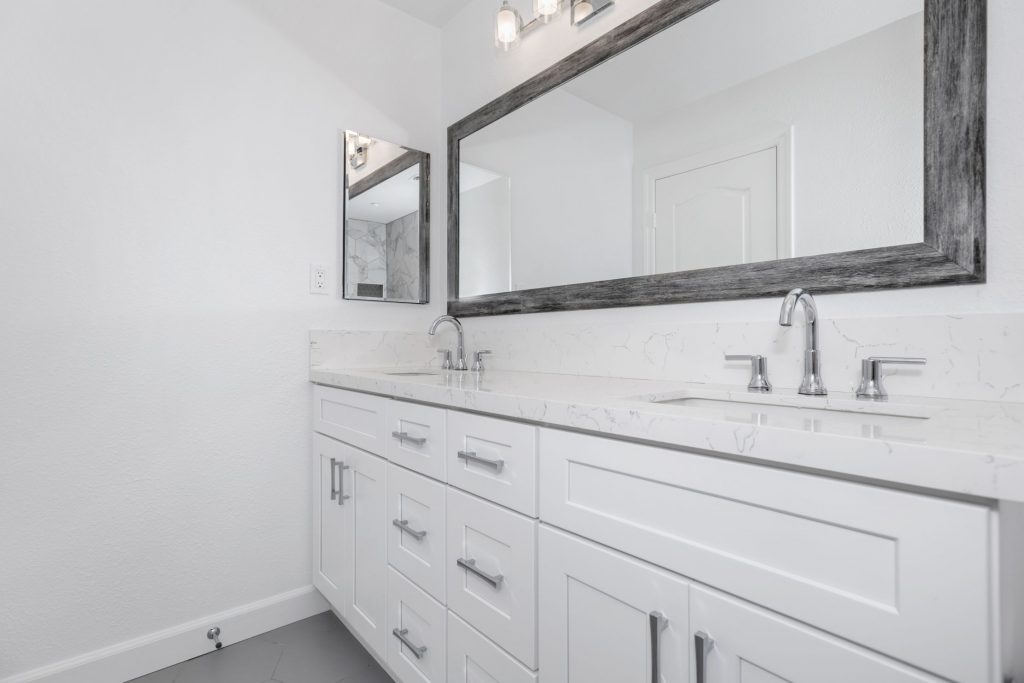 The most important aspects of a bathroom remodel
In what order should I remodel my bathroom? It's good to know which needs on a bathroom remodel take priority over others. That way you can create a budget that ensures the most important works are done regardless of what happens.
Some of the key areas of a bathroom remodel include:
This includes checking piping connections, boosting water flow, upgrading water heating equipment, looking for leaks, dealing with mold, etc.
New tiling improves the look of a bathroom and also waterproofs the walls and surfaces to prevent rot or mold underneath.
A new vanity set is a great way to refresh an old bathroom after having used it for many years. You could get a newer unit with more storage space, a different design, and with newer sinks and faucets.
Good lighting is critical during your bathroom remodeling San Diego, CA. This could involve painting the walls brighter, installing lighter tiles, putting in a larger window, and of course putting in different lighting fixtures.
Does your bathroom get stuffy or humid after a shower? Good aeration keeps the bathroom feeling fresh and prevents moisture problems brought about by condensation. This can be dealt with via vents, window fans, air conditioning, and windows.
How much does it cost to remodel a bathroom in San Diego?
It is important that you understand what costs you're facing as you plan for your bathroom remodeling San Diego CA project. That way you can save up and carry out a remodel that counts and ticks all the areas you need worked on.
How much does the average bathroom remodel cost in California?
On average, a bathroom remodel in San Diego will go for about $10,000 to $20,000. Depending what you need done, your quote could come lower or higher than this. Make sure to also have a contingency for unforeseen costs such as mold and rot repair.
What is the most expensive part of a bathroom remodel?
The big ticket items in a bathroom remodel include labor costs, structural changes, and installation of new fixtures such as tubs, shower enclosures, and vanities.
Looking for a San Diego bathroom contractor?
You want a bathroom contractor that is professional, knowledgeable, experienced, licensed, insured, & bonded. That way, you know you're dealing with a legitimate and serious professional that will get the job done.
How do I find a contractor to remodel my bathroom?
You can always search for a bathroom contractor online. If you're in SD, you can look up "bathroom contractor near me" for Google recommendations. You can also look up review sites and check out some of the companies with the best ratings. But even as you search online, remember it's not a fool-proof process. Outside the internet you can try asking for recommendations from friends, family, and co-workers.
Talk to a few bathroom remodeling San Diego CA companies. Ask for estimates after a physical evaluation of the work to be done. Then choose the bathroom contractor that you are confident will give you the results you want.
Plan your bathroom remodel like a pro
How do you plan a bathroom renovation? If you're starting from scratch, here's a rough plan to get you started:
Assess your bathroom remodel needs
Come up with a list of which areas of your bathroom you need worked on the most. Place preference on utility over aesthetics.
Figure out how much you can put into your budget
As we said earlier, a bathroom remodel in San Diego will cost you between 10K and 20K on average, more if you need to install big fixtures. See how much you can put aside for this project.
Compare bathroom remodel contractors
Look for San Diego bathroom contractors, collect quotes, discuss the work to be done, and see what your budget can get you. When you choose a contractor, set a commencement date and get a contract drawn up.
Plan how to cope with the remodel as it takes place
How long does a bathroom renovation take? Discuss this with your contractor. It could take anywhere between 5 -14 days on average. Plan which alternative bathroom to use during this time if you can't use the bathroom in question.
--
Are you ready for your bathroom remodeling San Diego CA? At Creative Design & Build we are highly experienced in all types of bathroom renovations. And we are based in San Diego. Whether you need repairs done, a complete makeover, or particular upgrades, we can give you what you need.  
Do you want your San Diego kitchen remodel to go smoothly as planned? Every client or homeowner wants this. But it doesn't always happen. We know of cases where clients come to us because a previous kitchen remodeling San Diego project needed to be redone. So what's the solution? We have some additional tips on how to make sure that you get exactly what you want when you finally decide to give your kitchen a makeover.
Go over the design details carefully with your San Diego contractor
Your kitchen remodeling contractor is your biggest ally when it comes to the remodel. It is therefore very important that you are both on the same page about everything. The best way to make sure of this is to continually go over what needs to be done. You should do this when consulting them, before the project kicks off, and at different stages of the project.
As you do that:
Get ideas from the experts
Let the experts give your ideas on how to tackle various problems such as addressing poor lighting or how to attain a certain design look. They have a wealth of knowledge that can give you a kitchen you'll be proud of for many years to come.
Choose your ideal materials
If you're like most homeowners, you want your space to feature specific fixtures. You want certain lighting, countertops, kitchen cabinets, appliances, etc. Take the time to shop for these items in collaboration with your kitchen remodeling manager. They can help you source these materials, and maybe even find cheaper deals.
Update your remodel budget
As you consult with your San Diego remodeling expert and buy the requisite materials, you will realize that your budget is changing. How do you manage a renovation budget? Re-adjust it accordingly so that you have enough resources to see the process through.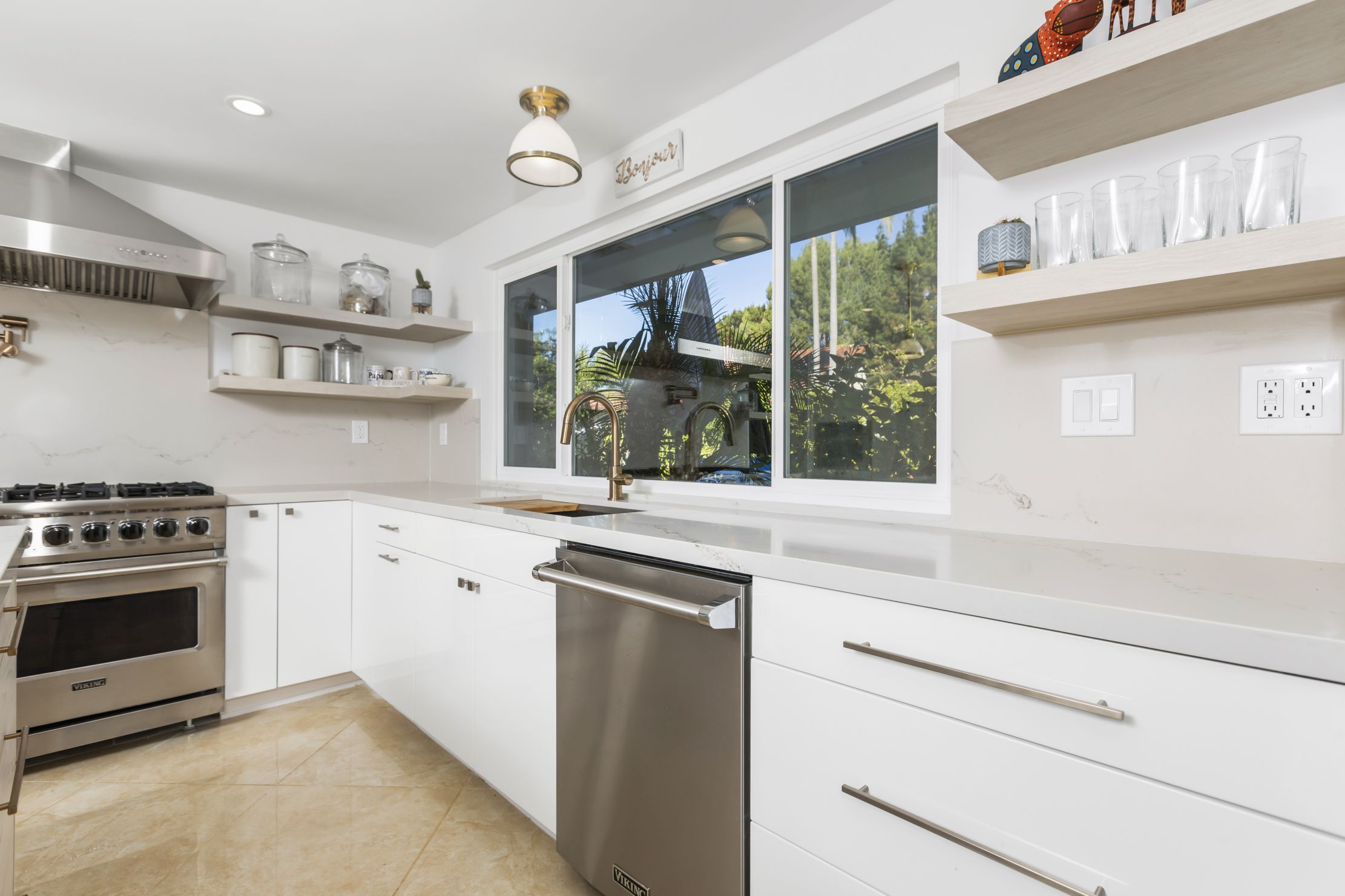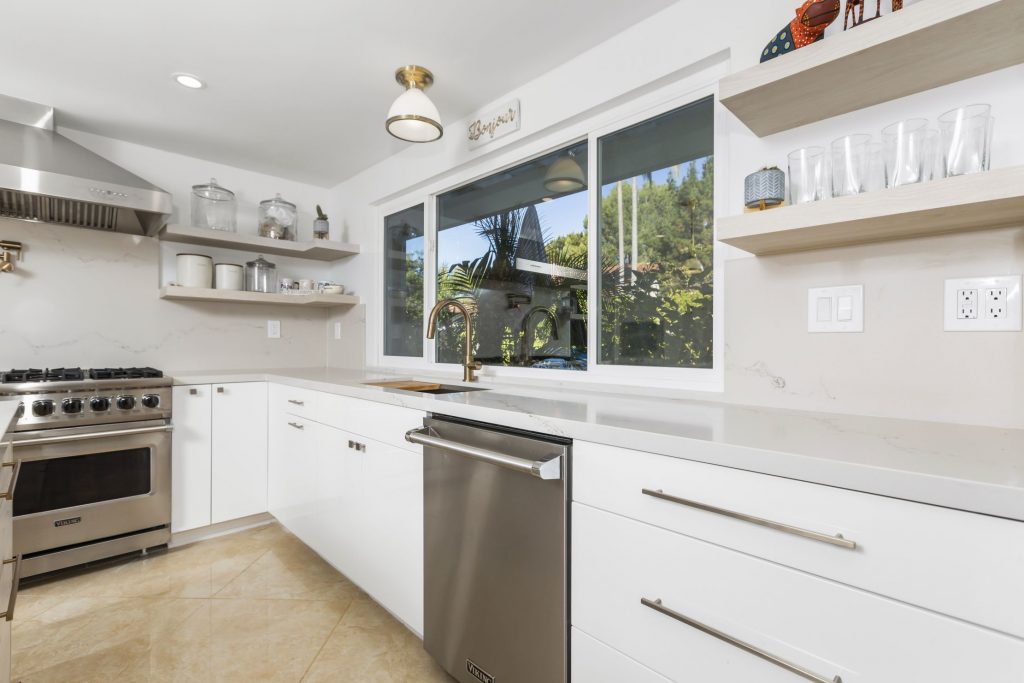 Buy the materials/fixtures you need before starting the build
Have you made sure you have everything you need as the work starts? That way, you won't end up with installations that you don't love. When you shop early, you have enough time in case you don't get something that you wanted. You can therefore choose a second or third option. However, if you go shopping for fixtures and furniture at the last minute and don't find what you need, you may either end up settling for what you didn't want, or delay the project altogether.
Inspect the work constantly as it's going on
Don't get too busy that you can't keep an eye on the kitchen remodel. Can I project manage a renovation? You don't have to; but is important that you stay close so that the contractor can bounce ideas off you from time to time. In some cases, some of the best changes made during a remodel happen due to an "idea spark" as the works are going on.
Plan for the unexpected
The unexpected will undoubtedly happen during the kitchen remodel. It could be plumbing issues, the gas line needing to be re-routed, electrical upgrades, etc. Be ready for this by having some extra money to cater the unexpected expenditure. Also note that such unexpected works may delay your kitchen remodel by a little while.
Need kitchen remodeling San Diego experts? Talk to us at Creative Design & Build. We handle everything, from 3D design models to plumbing, electrical works, cabinetry, and full project management.
Are you still relying on a drab shower curtain in your San Diego bathroom? We can recommend an alternative that is way better and more reliable. Invest in a glass shower enclosure and let the best bathroom remodeling San Diego, CA, company install it in your home.
Read on to learn more about shower enclosures and why they are the perfect solution to shower curtains.
Does your San Diego bathroom need an enclosure?
If your shower nook has an open entrance then you definitely need an enclosure. And that is what glass shower enclosures or glass shower cubicles are designed for. An enclosure closes up the bathroom so that you're not open to the rest of the room when taking a shower or bath.
Likewise, you do need a glass shower enclosure if you have been relying on a PVC or fabric shower curtain to maintain privacy and or to keep water from splashing about when trying to take a shower.
Advantages of glass enclosures
Glass shower enclosures work way better than shower curtains. They also add a lot of value to your bathroom. Here's how:
They instantly add elegance to your bathroom.
They add immense value to your bathroom and house.
They provide privacy so that multiple people can use the room at the same time.
They provide protection from the elements, such as drafts.
They keep water from splashing to the area outside the shower pan.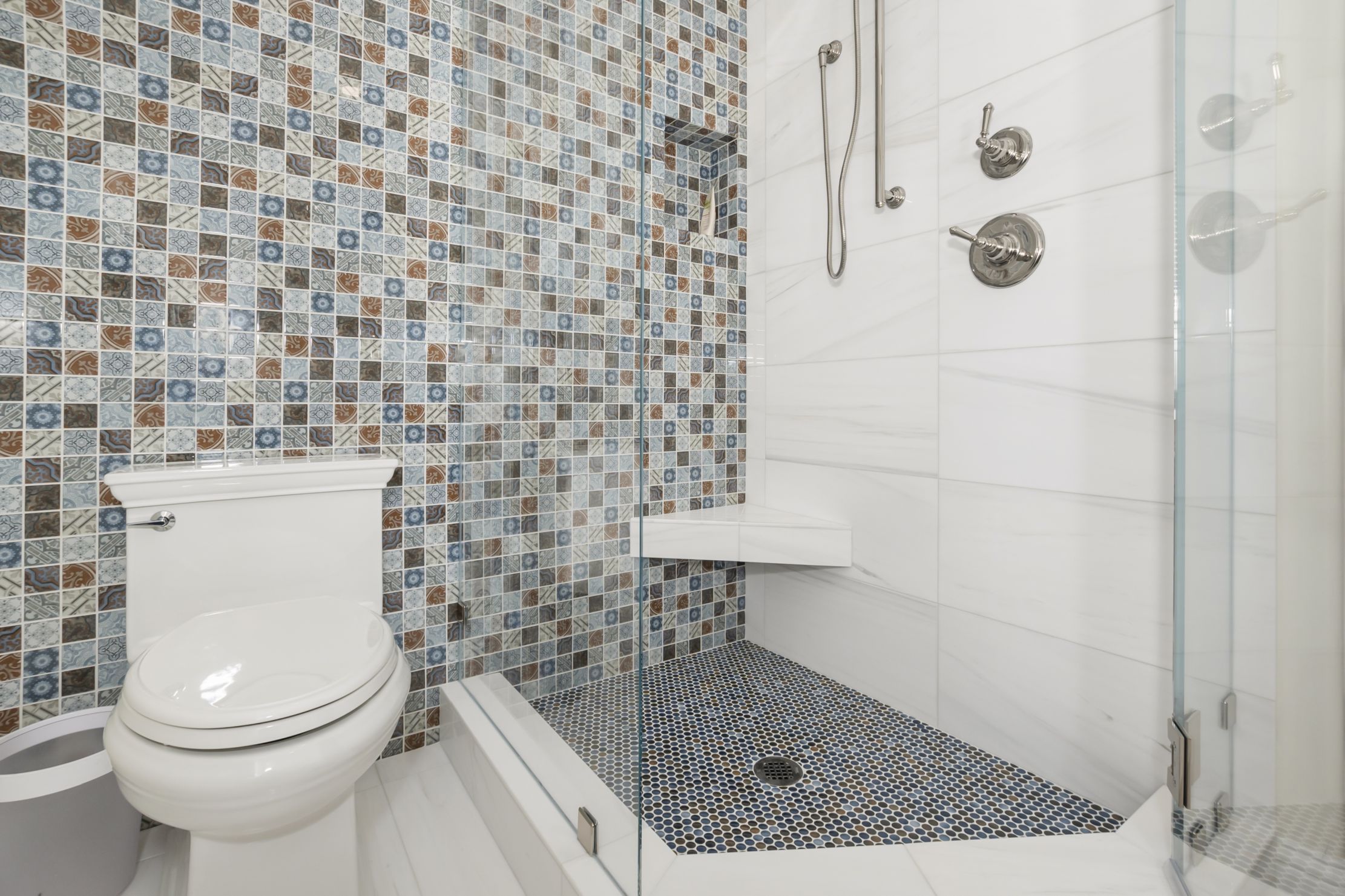 Why are glass enclosures better than traditional bathroom curtains?
Even though a glass bathroom enclosure will cost you considerably more, it does provide lots of benefits over what a shower curtain offers. These benefits include:
A glass enclosure can last for decades if maintained well, unlike shower curtains that last a year or so.
No sticking to your body while you shower
Say bye to peeling curtains off your body while showering once you install a glass frame enclosure.
A glass enclosure in your bathroom only needs a quick wipe to remove water stains and dirt.
Unlike PVC plastic shower curtains that may contain toxic chemicals, shower glass frames are toxic-free.
Choosing the right glass enclosure for your bathroom
Frameless enclosures cost more but look more contemporary.
Frosted glass offers privacy while clear glass does not.
Sliding vs swinging glass door
Sliding glass doors save on space in a small bathroom compared to swinging doors.
How we install your glass shower enclosure
First, we'll have someone come inspect the site and measure the space. We'll then recommend the best design and discuss options with you.
During installation mounting brackets will be drilled and installed on the walls. The vertical and horizontal frames will then be installed. The glass panels will then be attached to the frames.
How much will a glass shower enclosure cost you?
Glass enclosures range in price from $250 to $1000-plus. Once you choose the design you like best, we'll add design and labor costs. And these may depend on the type of enclosure you choose. Labor costs can range from $100 to $500.
Would you love a glass bathroom shower enclosure? Talk to Creative Design and Build, the leading bathroom remodeling San Diego, CA, contractor.
A good kitchen today cannot be complete without a pantry. If you are building a new home or remodeling a kitchen you have the chance to build a pantry that makes your kitchen better. Yes, a good pantry makes your work in the kitchen easier. Enjoy some tips below on how you can build a better pantry that does more for you and your kitchen.
Size matters when building a pantry
If you can, build a large pantry. Size matters when it comes to pantries and walk-in pantries are not a waste of space. They help declutter the kitchen because you get to stow away everything that is not used regularly/daily. You also get to use them as a store of some sort for your freezer, as well as kitchen equipment that you don't want to clutter your countertops. Think of extra cutlery and crockery, and cookware.
Have a sliding door (not a swinging)
A sliding door for a kitchen pantry is okay. However, if you can help it, think about getting a sliding door. You can go the extra mile and get a sliding barn door design if you like. A sliding door seems more befitting for a pantry because it does not eat into your kitchen space the way a sliding door does. You can have a sliding pantry door open in your kitchen door without obstructing movement. With a sliding door, you have to close it every time you open it otherwise it will be obstructing foot traffic in an otherwise busy kitchen.
Go for open storage pantry shelves
When it comes to pantry storage, go for simplistic open shelves. Not only will these save you money, these offer better aeration for your dried and fresh foods. They also make it much easier to locate whatever you want to grab out of there at any time. And that's not all, open shelves make it easy to notice what needs a top-up so that you can add it to the grocery list before it runs out. With closed shelves it's easy to run into empty jars and boxes at the very last minute when you're not expecting it.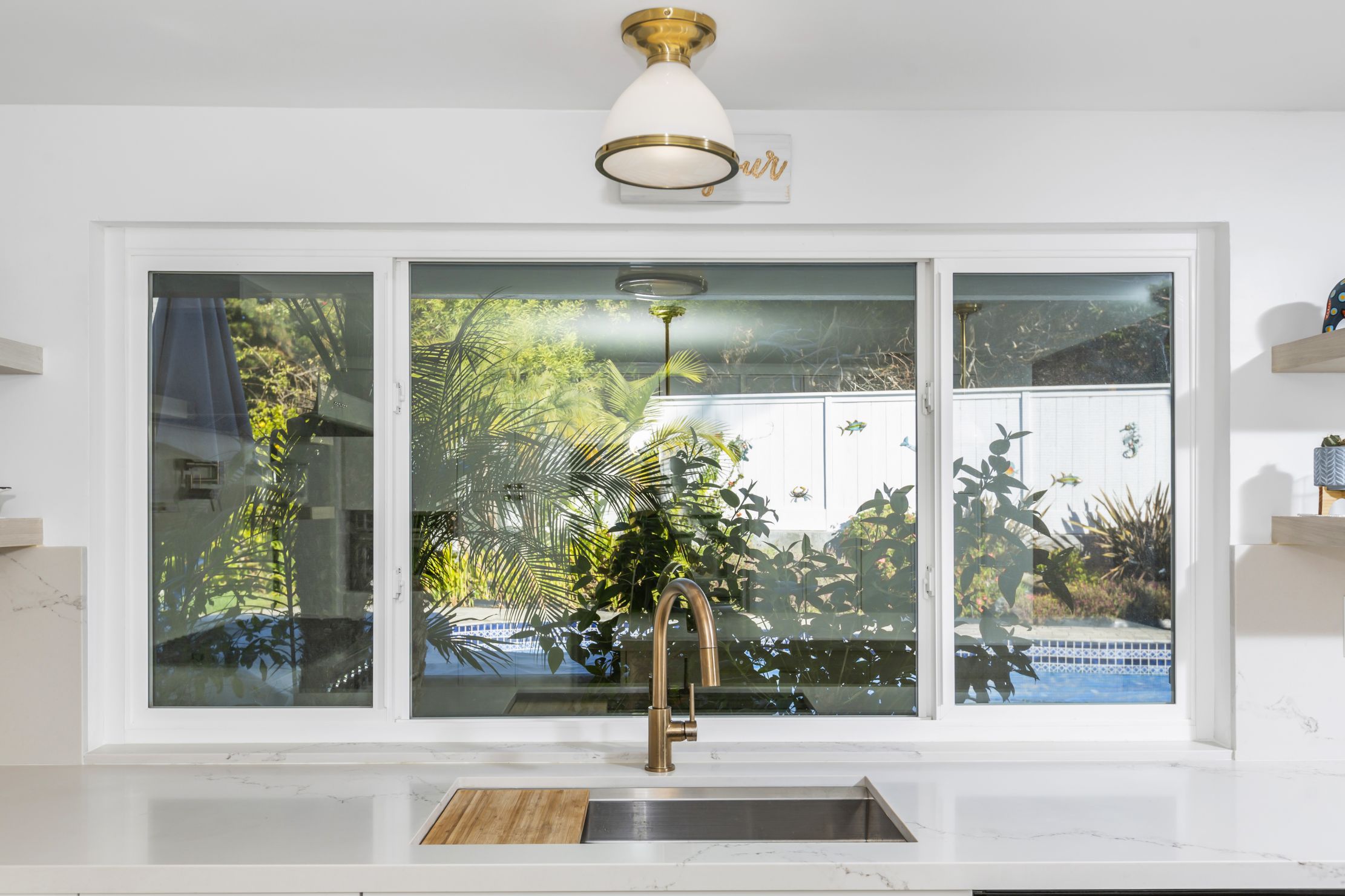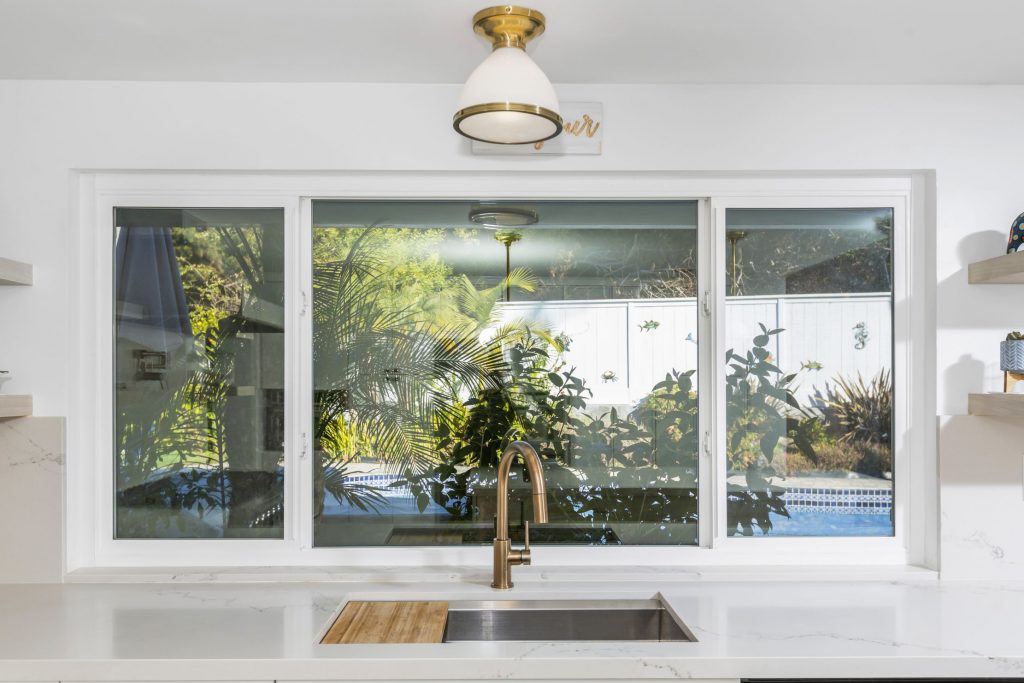 Build shelves of different sizes
When building pantry shelves do not go for one size all across the board. If you do that you will end up wasting very valuable space. Sure, you do need large spaces for pots and storage boxes. However, you also need smaller storage spaces for items that do not need much space. Think about canned foods and spices. A good idea, therefore, would be to have one side of the pantry exclusively fitted with small size shelves only. In fact, each wall can have shelves of different sizes ranging from small to large.
Incorporate specialized storage such as wine racks and freezers
It would be sad to build a large pantry and still have no space to store your wine bottles or somewhere to put your freezer. If you need such large storage items, think about incorporating them to the build of your pantry in the first place.
Creative Design & Build are kitchen remodeling San Diego experts. Talk to us about your kitchen pantry ideas as well as any remodeling plans/projects you may have.
At Creative Design and Build we relish giving our clients amazing bathrooms whether it's via a new build or a remodel. One of the challenges that we know most people have when it comes to their bathrooms is not having enough space. Often during bathroom remodels this becomes a main issue to work around. How do you like your bathroom space? Do you wish your San Diego bathroom was larger?
Why bother with a bigger bathroom?
Bigger is often better when it comes to modern construction and remodeling. With more space you can add more utilities to your bathroom and therefore you can also get more out of it. A bigger bathroom also means not having to duck and jump around fixtures as you navigate about. And with more bathroom space, you and your partner can both use the amenities therein without having to negotiate who gets to use what first.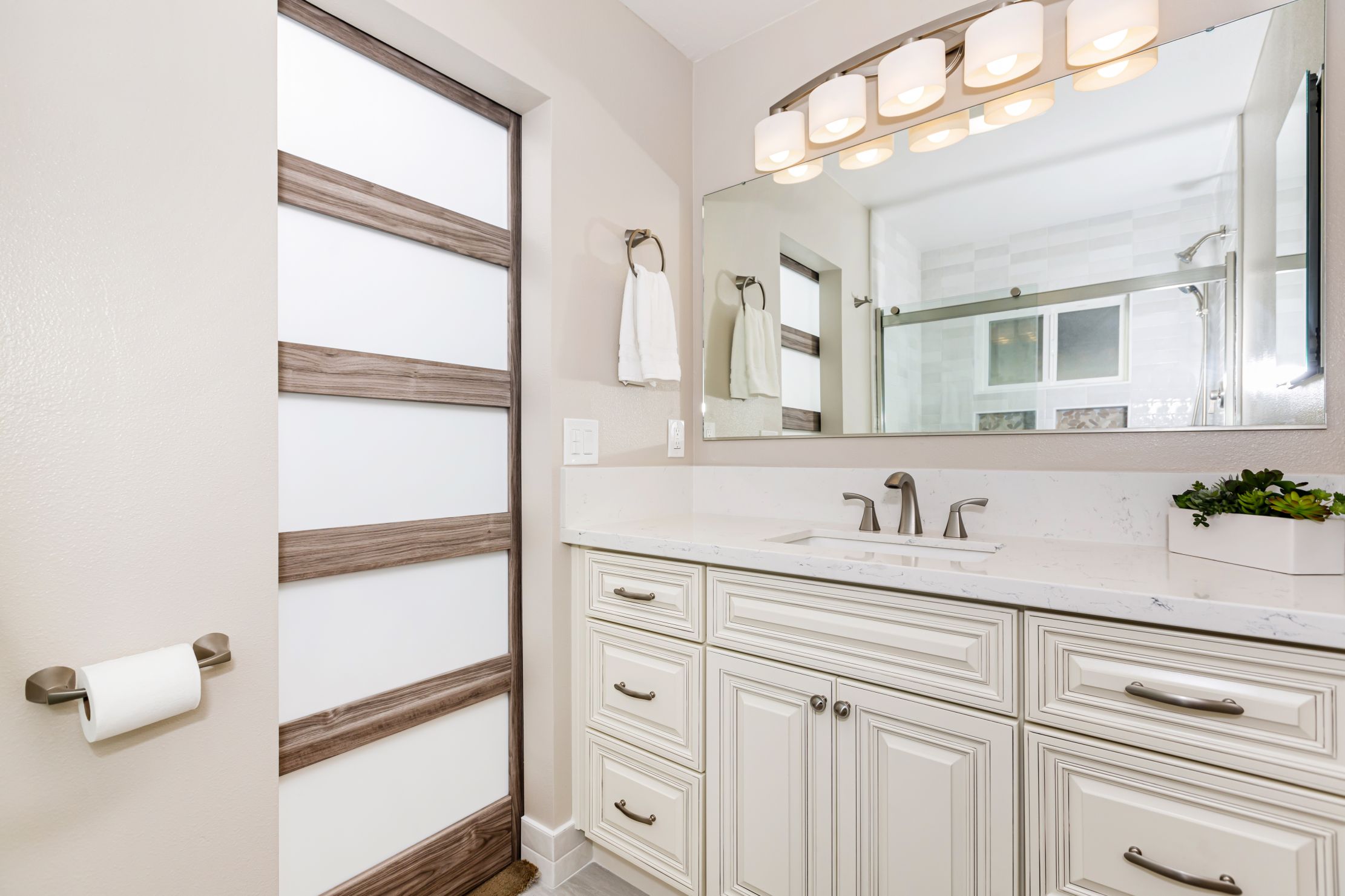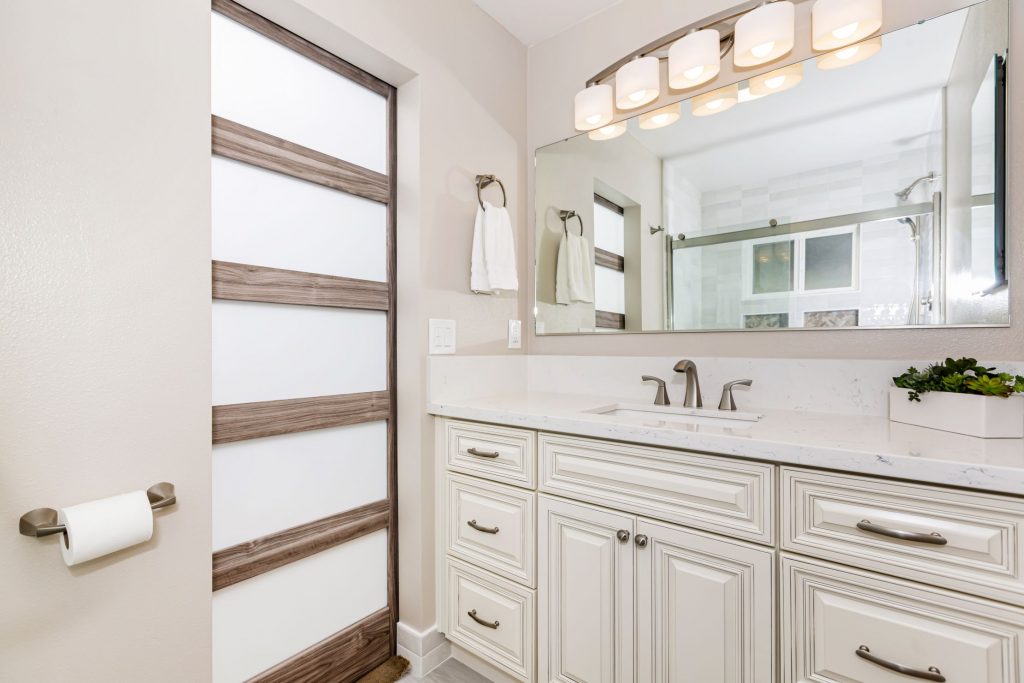 Options you could have if you had more bathroom space
If you had more bathroom space what would you add to it first? We bet you already have a few items off the top of your head. There are some great options to think about. Our top 3 list includes:
Every modern bathroom needs a large luxury soak tub to soak in when you get off work or on weekends. Don't you agree?
A large shower with enough room to maneuver without bumping into walls is a nice treat. Better yet, how about a double shower that you and your partner can use independently without taking turns?
A double vanity (his & hers) is practical, functional, and necessary. And with enough bathroom space you can get one that is spacious enough.
Bidets are common in most contemporary bathrooms today. With more bathroom space you too could have the real estate to add a bidet comfortably.
Who said bathrooms can't have seating. Well, they can! A bathroom bench is a great utility that will come handy as you dry your feet, wait for your soak tub to fill up, or when you decide to hide away in the bathroom for a while.
Signs that you need a bigger bathroom
You may need a bigger bathroom if:
Two people can't use the bathroom without knocking heads.
You only have a single sink in your bathroom.
There's no freestanding space left.
There's not enough storage space.
Different ways you could have a bigger bathroom via a remodeling extension
With a little ingenuity and bravery you could carve out some extra space for your bathroom. Some of the options include:
Borrow some space from adjacent rooms, e.g. a guest bedroom, spare bathroom, garage, etc.
Create an extension by taking on some outdoor space.
Either of these options will take some work, and some cost. But the end result would be darn worth it when you have your spacious bathroom full of all the sanitary amenities you desire.
If you're dealing with a small bathroom and would like ideas on how to change that, talk to us. We are the leading bathroom remodeling San Diego CA company and together we know we can come up with a great solution.
What adds the most value to a kitchen? How do I update my kitchen for resale? What renovations are worth doing? Is it worth it to update kitchen before selling? These are probably some of the questions you have swirling in your head if you are contemplating selling or renovating your kitchen. Kitchen remodeling does have quite an impact on a home's resale value and speed. Read on to see the areas that have the most impact.
Open floor plans
An open floor plan kitchen is a top priority if you want to boost resale price and prospects. New buyers today want a free-flowing living area that extends to the kitchen and dining areas. Walls in between these spaces are viewed as obstructive and unnecessary. Not only do open floor plan kitchens appear roomier, they are also brighter and more inviting.
Kitchen islands and counter space
Counter space is critical in a kitchen. The more counter space there is - the easier it becomes to work around the kitchen. More counter space also reduces chances of cluttering the room with cutlery and appliances thus providing a clean modern look. If you can, get a kitchen island, a peninsula, or a U-shaped kitchen layout for maximum counter space.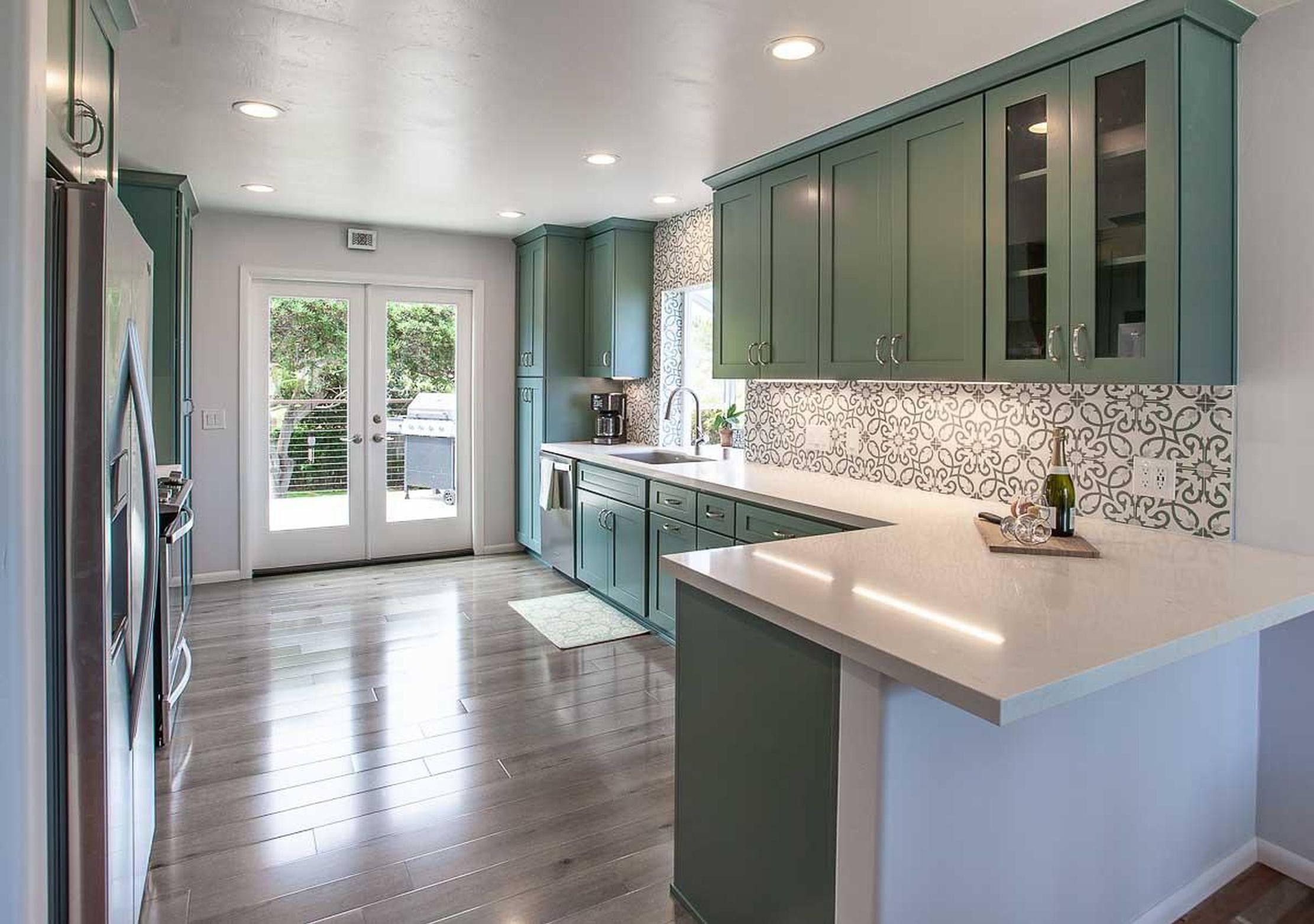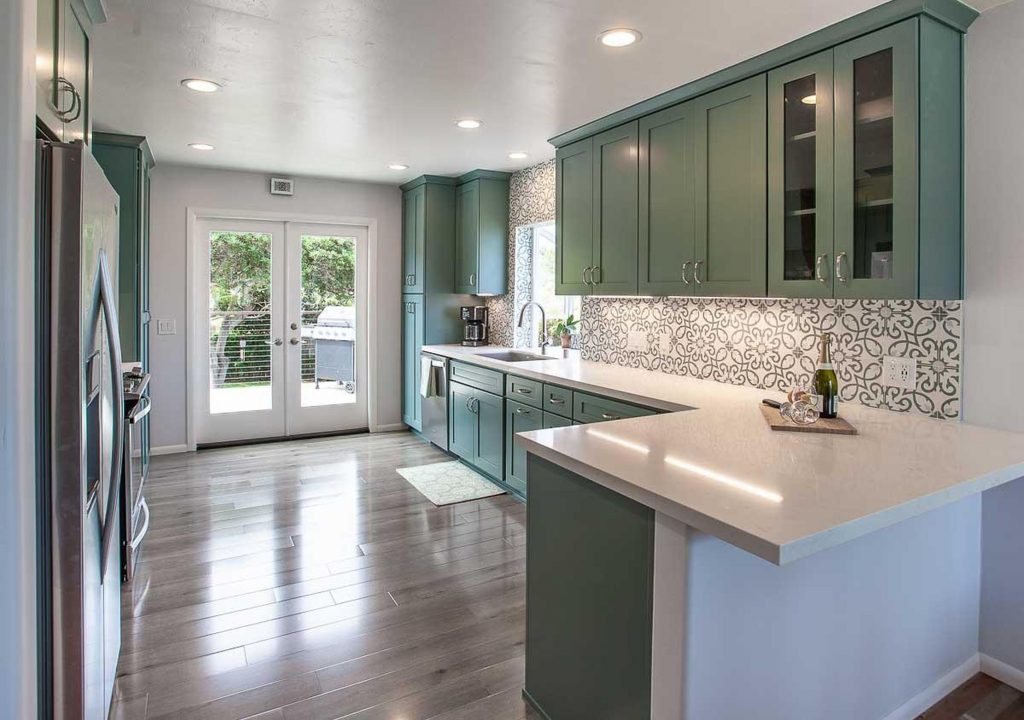 Kitchen cabinets
Kitchen cabinets are very pronounced and are often the first fixtures to catch the eye of a prospective buyer. They are also highly functional in a kitchen so they need to provide great utility value. Remodeling kitchen cabinets is therefore worth the investment. Does painting cabinets devalue home? If the cabinets are not old or worn and have a good design then go ahead and paint. If replacing, however, go for a modern glossy look. Soft closing cabinet doors or push-to-open cabinets get you extra points.
Pantries
Does your kitchen have a pantry? If it does then you can appreciate the need to have one. A good pantry can help sway buyers into preferring your kitchen over another. And the reasons are obvious. If you can, create a good pantry space that holds quite a bit. A walk-in kitchen pantry is a great bonus, necessary even, for a family-sized home.
Updated walls and flooring
When it comes to aesthetics, a fresh modern look will get you better attention when reselling. Dull walls and tiles are a no-no. What is the best kitchen color for resale? Go for bright colors such as white or shades of white. Bright walls make the kitchen look cleaner and larger. The same goes for tiles.
Modern appliances
Should I upgrade appliances before I sell? It might be worth considering if your appliances are out of fashion. Real estate agents always emphasize new appliances because buyers love new things in their new house which they can start their new chapter with. New buyers want tools and appliances that feel like their own. Older appliances will only remind them that the space is old too.
We are kitchen remodeling San Diego, CA experts. We remodel kitchens in San Diego county for homeowners, tenants or even property developers. Call us today and let us help you boost the resale value of your home.
If you just moved into a new house, it is common to want to change a few things about the place. Kitchen remodels, in specific, are quite popular with new home buyers. If you are on the fence about whether or not you should remodel your kitchen, check out some of the most common reasons why so many people remodel houses they have just moved into every year across the country.
Design/style doesn't match your own
Every family and each new set of homeowners have their own distinct sense of style. So even though you might like the house and what if offers (such as space, the number of bedrooms you need, and proximity to work), you may not like the specific style of your kitchen or other rooms as well. Through a kitchen remodel you can change that so that you get to enjoy a wholesome space that reflects your identity and character.
And this is where the question - how much should you spend on a kitchen remodel comes in. Well, that will depend on your design taste really.
Closed off spaces
Open concept floor plans and kitchens are the norm as far as today's designs go. And that may be what you're looking forward to. But older homes may contain kitchen designs that feature traditional closed floor plan concepts. You may therefore find that your new kitchen feels boxed in and not connected to the rest of the house. Most homeowners in such a situation opt to knock down a wall or two and open up the space by joining it with the dining room and living room.
Kitchen is too small
Modern kitchens are not just mere cooking spaces. They are just as valued as other spaces in the house. And being a common area such as the living room or the dining room, it is important for modern kitchens to be large enough for visitors to walk into, and for multiple people to work in during parties or family gatherings. So that might explain why in the last few years kitchens have been getting bigger and bigger.
Need a bigger pantry, more counter space, a huge island? Get a kitchen remodel!
Outdated fixtures
If you move into a house that was built quite a while back, you will most likely realize that the fixtures are quite outdated. This is another common reason why people remodel kitchens. Through a remodel you can refresh the space as you like and replace cabinets, countertops, and appliances with modern options.
Poor flow/planning of floor space
Which kitchen layout is the most functional? Any can work. So long as you allow enough working room. Some kitchens just have poor workflow due to awkward installation of the sink, fridge, and storage spaces. That is good reason for a remodel.
Not enough storage
What is the most expensive part of a kitchen remodel? Some say it's the cabinets, other say appliances. The truth is that it differs with each kitchen. So don't be coy about needing more storage. It might not be as expensive as you think. Good storage and a well-sized pantry are important in any modern kitchen.
Creative Design & Build is the kitchen remodel company San Diego County that you need. We understand kitchen remodels and the reasons behind them. Which of the above reasons apply to your current kitchen?
If you're looking to remodel or build your dream kitchen in San Diego, you must be looking for the best kitchen contractors in the county to take on your project. And why wouldn't you? A good kitchen adds great value to a property and creates a wonderful space to prepare meals and entertain. Wondering, "how do I find a good kitchen contractor?". Check out our list of some sure ways on how to land the kitchen contractor you need.
Portfolio (past work)
Ask kitchen contractors to tell you (or give you) their portfolio. That is, ask them to show you what work they have done in the past, and possibly what kitchen projects they are in the middle of. This process will reveal to you several things:
The quality of their work.
How busy they are (now and throughout the year).
What type of projects they typically handle.
What their design style is.
Idea board
How do I choose a kitchen contractor? One of the main factors that should guide you in choosing a kitchen contractor is the potential they can bring to your space. And remember, the best contractor might not hold the best potential for your project; it might be the second-best contractor that gets what you need. So how do you figure it out? Ask the kitchen contractors to give you ideas on how they will transform the space into what you need. This is where you'll start to see the real contenders and the non-starters.
Client referrals
What should I look for in a contractor? The qualities that make up great contractors include trust, skill, experience, and even affordability. But any contractor can claim to have these qualities. The best way to find out is to go straight to the horse's mouth. Ask for referrals of past clients and then ask those clients how it was dealing with the contractor in question. The answers you get will give you a first-hand account of what you can expect from working with the contractor.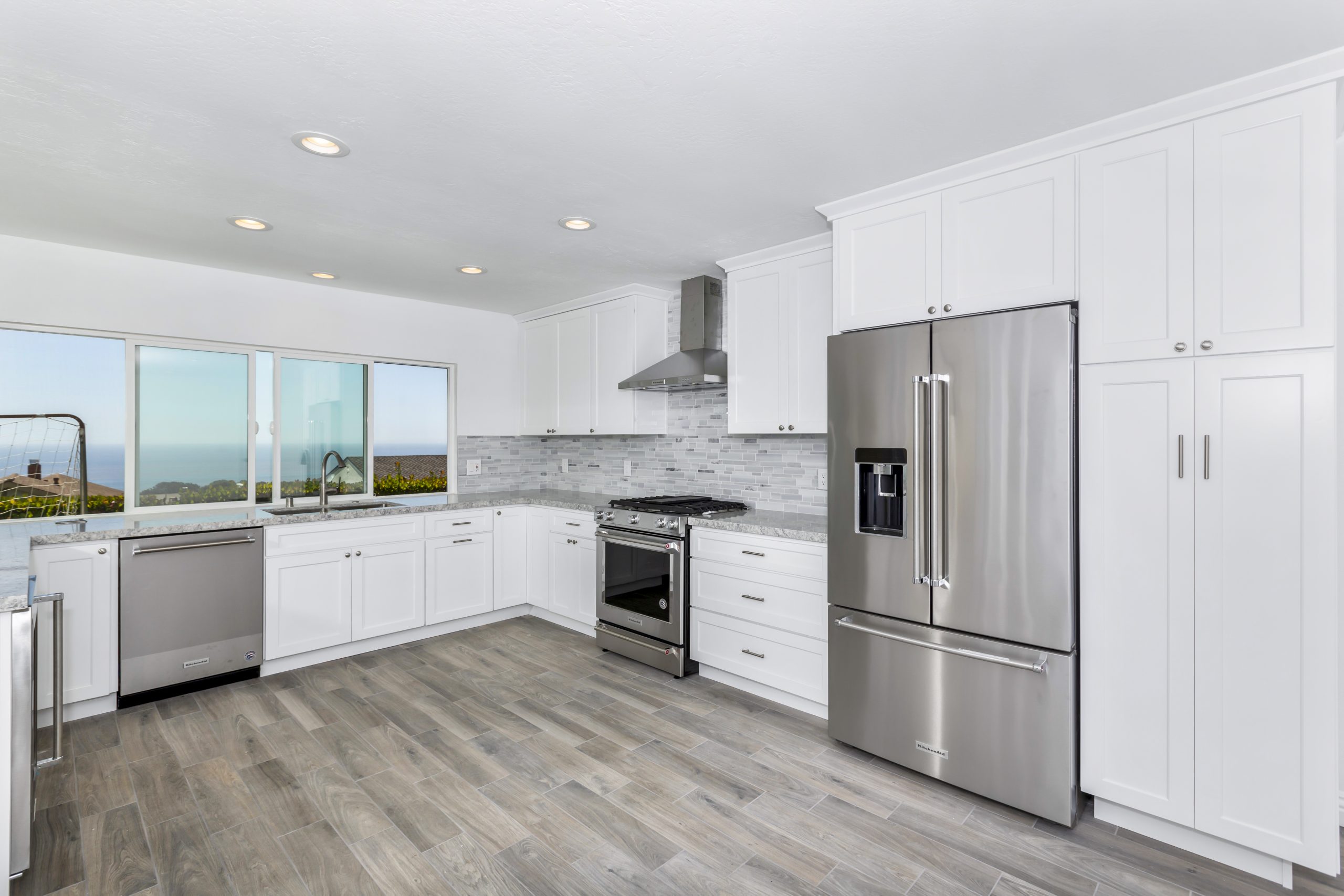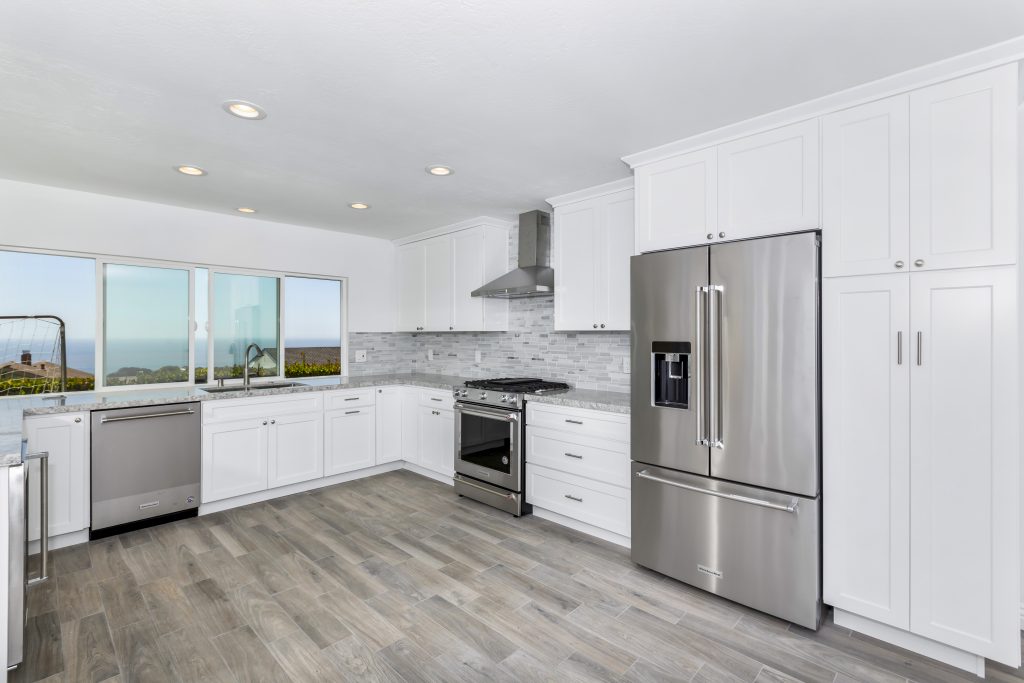 Ratings & reviews
How do you know if a contractor is reliable? Well, that is hard to tell from talking to one. Once again, the best way to get that information is to hear it from people who have worked with these contractors in the past. And today you can get that information easily via ratings or reviews. You can get these from the contractor's websites or from consumer-driven review sites such as Yelp.
Trusting your gut feeling (intuition)
Last but not least, trust your intuition when you first deal or meet with a contractor. This is in addition to all the above factors. If your gut feeling tells you that a certain contractor is great, or maybe not-so-great, put that into mind as well and evaluate it alongside all the other factors above.
Creative Design & Build is one of the leading kitchen contractor San Diego County has. We love what we do and we know you would too. Talk to our team today and let us show you what we can do for your kitchen!
If you want to remodel your kitchen (be it because you just moved into the house, you want to list the property on the market, or you just want to reverse the tear and wear of age), you want the best people in San Diego working on your space. You want the job done right the very first time. This is not always easy as far as any type of construction project is concerned. And you may already know this if you have been looking for contractors. The question therefore remains; how do I find a good kitchen contractor? We've put together some qualities that should guide you to the right company.
They understand their customers' needs
It is refreshing dealing with a service provider who understands what their clients are looking for without you having to explain yourself in detail. This is a sign of an experienced and skilled contractor that is well-informed and well-updated on their industry. The moment you start to explain a concept, they immediately understand what you're looking for and why you're looking into that idea.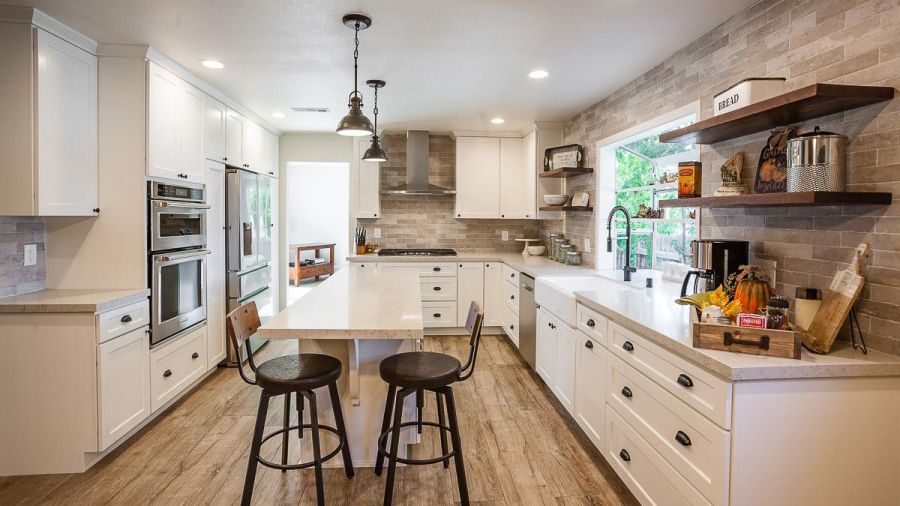 They have great ideas and insights
Your kitchen contractor is the expert when it comes to the project that you are handing over to them. So not only should they remodel your kitchen and give you what you need, they should guide you in that process. They should have the ideas and insights as to what designs, materials, styles, and trends you need to look at. This is where real value comes in and this is part of what you are paying for when you hire your designer or contractor.
Details matter to them
Serious professionals do not leave any grey areas on their plans. Every design and every material must make sense and come together beautifully to complete the client's vision and meet their needs. There is no margin for error and there is no guesswork in their thought process. This is why they are able to create great works that impress their clients and surpass their expectations. If you are dealing with a contractor that doesn't pay much attention to detail, you should start to question their expected results.
They do the work themselves
How do I find a contractor to remodel my kitchen? Look for a contractor that does not simply "sell" or "offload" your project to another company. Good contractors don't outsource work to other parties. The have the manpower, tools, and resources to handle all the work themselves. And they like to do all the work themselves because that is the only way they can guarantee quality to their clients.
They offer both design and build services
A good kitchen remodel company San Diego County will not offer you half the services you need and ask you to seek the rest from another company. By understanding your needs, they should be able to offer you:
• Consultation services
• Design services
• Architectural 3D plans
• Planning permissions
• Construction services
• Interior design
Is a new kitchen worth it? Yes it is. And Creative Design & Build can give it to you. Call us today and let us plan your kitchen remodel together.
A kitchen remodel is a sure way to revitalize one of the most versatile spaces in your home. And if you are already in the process of preparing for such a remodel, chances are that you have lots of questions swirling at the back of your mind in regards to various factors and considerations that will affect your kitchen remodel. Below we discuss a few common ones and shed some light on how to go about the various issues.
How much is a kitchen remodel in San Diego?

A kitchen remodel in San Diego will cost you tens of thousands of dollars. In most cases the project will cost anywhere from 10K to 50K or even 100K. It all depends on the type of finishes and fixtures that you want installed. The type of kitchen contractor you hire will also affect your cost. If you hire an experienced contractor they will come at a premium cost and that will push your project budget upwards marginally.
How much does it cost to hire a kitchen designer?

Most kitchen designers will charge a fraction of the budget cost of the project. So with that said, their cost will depend on the scale of your kitchen remodel. If your remodel is grand and unique, the cost of the designer and their ideas will be high; and vice versa. The location where the project is taking place will also affect the cost of the kitchen designer. If the property is located in a high-end address then, just as it is with the cost of housing, the rates will be higher.
Why is kitchen remodeling so expensive?

Kitchen remodeling costs are a bit high. And construction costs in general are high as well. Part of reason why kitchens are costlier to renovate compared to other rooms in a house is that kitchens need a lot more work. While a typical room only needs flooring, walling, and lighting to function, a kitchen also needs plumbing, electrical, gas, countertops, appliances, faucets, sinks, a backsplash, and more.
Can you redo a kitchen yourself?

Well, yes you can. However, you would need to learn how to do it first. And that would require you to spend hundreds of hours learning to how to properly install various fixtures. And even then you probably won't be as good as the contractors you might have hired. And when it comes to kitchen design, well, that can't be learned as easily.
What percentage of remodeling cost is labor?

Today labor costs average somewhere between 20% to 40% of the total project. This is when all the factors have been considered. As you evaluate your labor costs, though, it is important to understand that good materials without good labor just won't cut it. You need good labor to enjoy good results. And that costs money.
Need a kitchen contractor San Diego County. Creative Design and Build is here for you. We have a superb team that can offer you design and construction services with great results. We handle small to high-end kitchen builds, be it remodels or new constructions.