Planning your Kitchen Remodel in San Diego, CA
Kitchens are one of the most focal rooms that sway potential home buyers on whether to buy a property or move on to the next. And after being lived in for a while, a kitchen definitely experiences wear and tear. And that will necessitate a remodel. That is where we come in as kitchen remodeling San Diego experts.
We know kitchen renovations in and out. We have dealt with all manner of projects with varying budgets. So when we say we can help turn your San Diego kitchen around, we mean it!
Let's look at how to plan a kitchen remodel, including costs, finding a kitchen contractor, and more.
Is it worth it to remodel my kitchen?
Are kitchen remodels worth it? They most certainly are. Right off the bat, a kitchen remodel adds great value to your property. This is regardless of whether you want to sell or not. Even if you plan never to sell, it feels great knowing that your property has great value.
Another reason why a kitchen remodel is so worth it is that it adds utility and functionality. For those who don't like to cook as much, having a kitchen with a great layout, enough counter space, and great appliances can make it easier and more fun to get in there and cook every day. And if you already love cooking, remodeling your kitchen will make your work easier and even save time when doing so.
And of course, a kitchen remodel makes your kitchen look great. And why shouldn't it? Great lighting, fresh paint on the walls, modern faucets, and updated cabinets are a delight to have in any kitchen.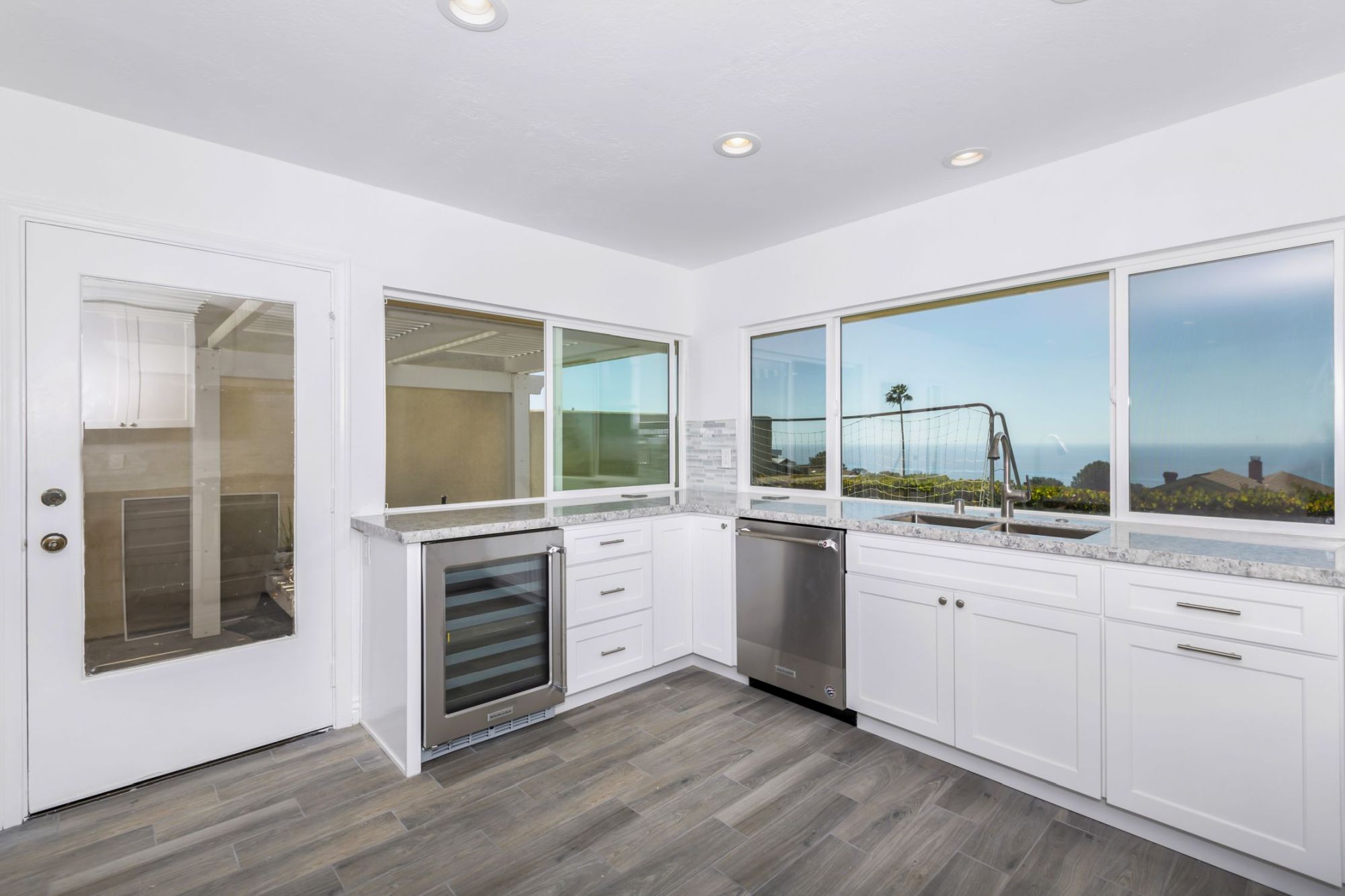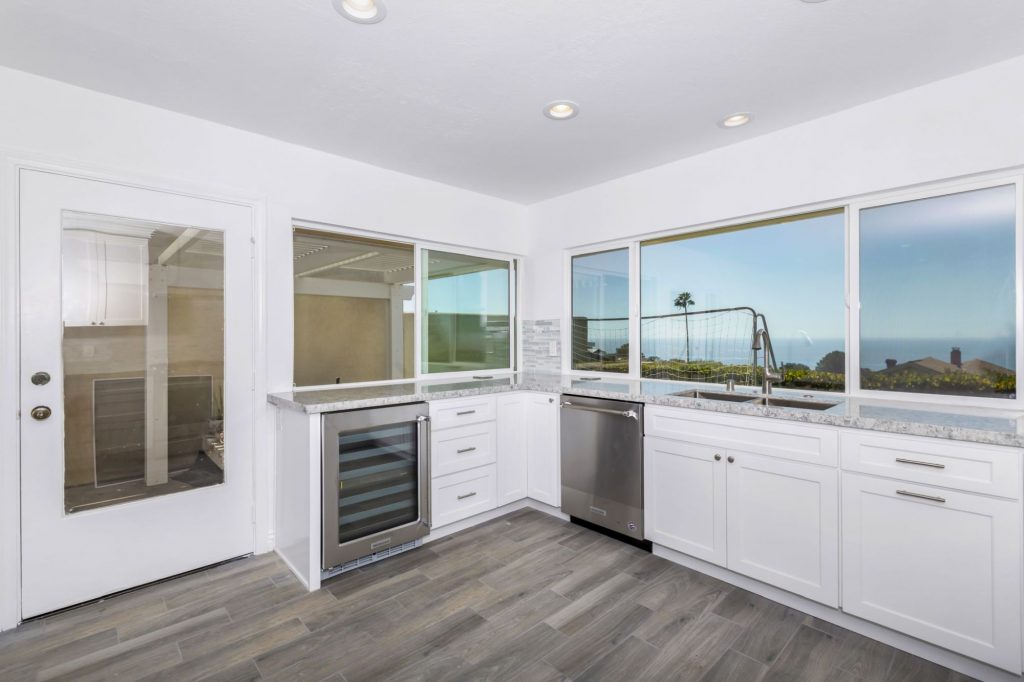 Which areas of a kitchen remodel should you focus on?
What should I consider when remodeling a kitchen? This is where you should start the moment you start planning a kitchen remodel. Consider the following areas:
Get enough storage space for all your cutlery, cookware, and supplies. You can replace the cabinets, add more, or refresh the ones you have.
Some areas of a kitchen wear off quickly due to lots of daily use. These are inexpensive areas that would really improve your kitchen experience. They include faucets, drawer handles and knobs, backsplash, etc.
Think about a good kitchen layout that maximizes use of the space and allows you to easily entertain on special occasions. Adding an island or adding more counter space is a great place to start.
New floors can transform the look of your kitchen. You can go with ceramic tiles, hardwood, vinyl, laminate, and other options.
Make sure your plumbing system is in order. Have it checked for leaks and pressure especially.
New kitchen appliances cost a dime but they add lots of value to a kitchen. Some of the best appliances to upgrade are cookers, fridges, and ovens.
Kitchen dining furniture can make your kitchen look sophisticated and relaxed. And, you get to use the furniture to eat in the kitchen right on the countertop when you want to. That comes in really handy when you have kids or are entertaining.
Great lighting in a kitchen cannot be emphasized enough. You'll be surprised what modern lighting fixtures can do to the ambience of your space.
How much does a kitchen remodel cost in San Diego?
You cannot avoid the topic on money when it comes to a remodel. Find out how much it costs to remodel a kitchen remodel.
How much should I budget for a kitchen remodel?
A kitchen remodeling San Diego project will set you back about $40,000 to $80,000 on average. However, depending on the size of your space and what you want done, the general bracket is about $25,000 to $150,000.
What is the most expensive part of a kitchen remodel?
The most costly items on your kitchen remodel will be cabinets, new appliances, countertops, and of course labor charges. If there are any walls that need to be knocked down or moved that will cost some considerable money.
How to find a San Diego kitchen contractor
Finding a good kitchen remodeling contractor is a big part of getting the process right. This is one of the areas where you can make or break the project. If you hire an unprofessional company/contractor then your remodel will have failed before even starting.
So take time to look around, ask for referrals, ask the questions that matter, and look at reviews to see what past customers have to say about them.
How can I find someone to design my kitchen?
You can start on the internet by searching for "San Diego kitchen remodel contractor". You can also look through review sites including Google GMB listings. There is also the option to ask family, friends, and colleagues. And you can always look around the city and see if you spot any design shops around.
How to plan your kitchen remodel
You have already seen what a kitchen remodel in CA can cost. But now you need to find out how much yours will need. Ask for quotes from a few kitchen remodeling San Diego companies.
Find a kitchen contractor
Look for a reliable San Diego company to handle the project. Give yourself a few weeks to look around. As we said earlier, make sure they are experienced, licensed, insured, and bonded too.
Decide what work is to be done
With a contractor selected, discuss what works are to be carried out in your kitchen. The budget will play a role in deciding this. Your contractor will also guide you and help refine your list of needs.
Decide when to start the remodel
As the client, discuss with your kitchen contractor when the project should start. Also have them inform you how long the project will take to complete.
Plan how to prepare food during the remodel
If the kitchen remodel is taking place in a property that you are living in, plan how you'll prepare food in the midst of the remodel. You can eat out, microwave most of your meals, or prepare meals in advance and refrigerate them.
--
Do you need help planning your kitchen remodel, deciding what areas need work, or even coming up with a budget? Let us help. Give us a call today.