Ideas On How To Carve Up Space From Your San Diego Bathroom
Small bathrooms are a constant headache for many homeowners and tenants across the country. Do you ever wish that your tiny bathroom wasn't as cramped as it is? There are ways to carve up some extra space from small bathrooms. Some of these might appear drastic, but remember drastic results require drastic measures. Check them out below and see which ones could apply to your San Diego bathroom.
Chuck the tub or go for a tub/shower combo
Removing one large piece from your bathroom is easier and more practical than compromising on many other smaller pieces. If you have a small bathroom with a tub, getting rid of the tub will free up lots of floor space that should add leg room or allow for other installations. If you can't bear the thought of having no tub, how about having a tub/shower combo? There are some affordable options in the market if budget is an issue for you.
Replace the double sink vanity with a single sink unit
If you replace a double sink vanity with a single sink vanity you will free up space that is enough to fit a toilet unit, or more. Although a double unit is usually preferred, a single sink vanity will do okay for a common bathroom or in a small household. Now obviously, you do already have a toilet in the bath so that explanation is just for comparison. You could use the free space to install handy shelving units or you could leave the area open to give your bathroom the illusion of being not so packed.
Swap the vanity sink for a pedestal unit
Is a vanity unit in your small bathroom still too much? A sure solution is a pedestal sink. These look elegant and they take up very little space. They are also easy to install. A pedestal sink unit works well where you find that a vanity unit is obstructing easy entry or exit into a small bathroom. The pedestal sink allows for more space between it and the swinging door making entry and exit less awkward.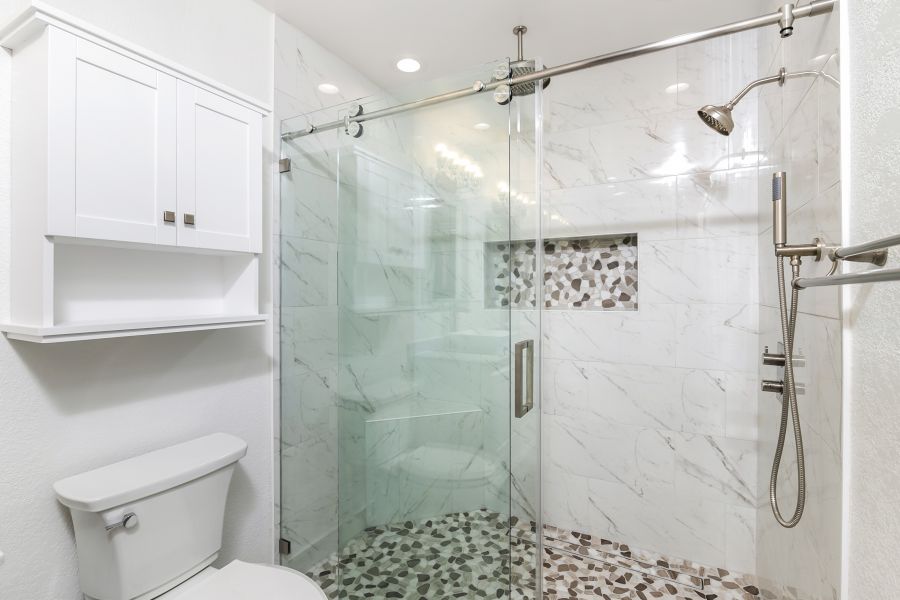 Create vertical storage
A guaranteed way to create space in small rooms is utilizing vertical spaces. Now you want to create balance such that you don't weight down your bathroom walls with storage. A classy way to go about it is to choose one wall to use as storage. It could even be a half wall such as that above the toilet unit or that above the vanity mirror. Standalone racks and mounted hooks are good options too.
Utilize hidden storage as much as possible
You can also go an extra step and create space within your tiny bathroom – space that is not easily discernible at a random glance. Medicine cabinets behind vanity mirrors are a great example. Vanity units can also offer hidden storage space under and behind them, especially if they are stand-alone units.
Creative Design and Build offers the best bathroom remodeling San Diego County services. Call to talk to us and let us plan how to give you a bathroom you can be proud of.