When was the last time your San Diego kitchen had a remodel?
It's a great time to think about a San Diego kitchen remodel now that it's the beginning of the year. Have you thought about making some changes or upgrades to your kitchen space in recent times? If you have, we're here to nudge you to get it done. And if you haven't thought about it, we're here to tell you that it might be a good idea to think about it.
If you have never given your kitchen a makeover, chances are high that you may need one. The good news is, you can now start planning to have one carried out in the near future. And we can help you prepare adequately.
First, you can consult us to learn what services you may need, what areas you should work on, what additions you might like, etc. We can do this for you via an in-house consultation service.
How much will a kitchen remodel cost? At the end of the consultation process, our team will give you a budget estimate. This budget estimate will give you a figure to have in mind and hopefully start saving for.
And in order to make sure that you'll actually follow through, you should set a tentative month when you will actually have the budget ready and maybe even book the remodel with us.
After every 5 years most kitchens will need a refresh
How often should you remodel a kitchen?
Well, this will vary from house to house. The circumstances affecting the rate of wear in one kitchen will differ from those in another household. For one, higher quality workmanship will last longer. Another factor is children. Homes with small kids experience more wear and tear so you may need to seek a San Diego kitchen remodel sooner. 
How many years should a kitchen last?
On average, we think everyone should consider a kitchen remodel after every 5 years. Remember this is on average. Some kitchens will need a remodel after less time, and others after a longer period. But 5 years is a good duration after which to consider making some upgrades or changes to your space.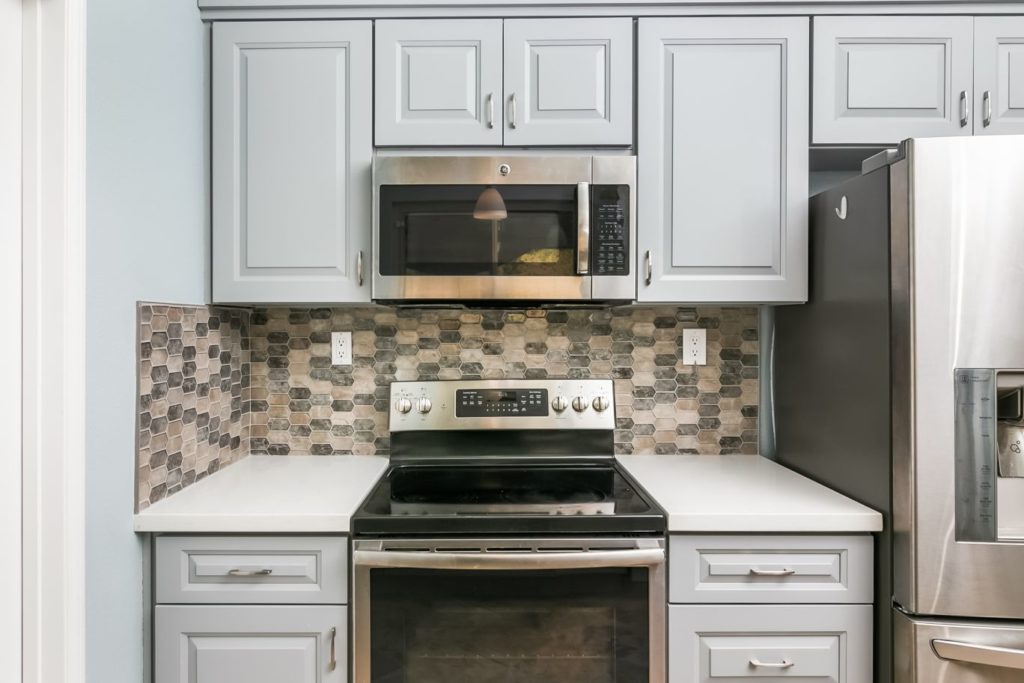 This is one of the best times to remodel your San Diego kitchen
When is the best time to seek a kitchen remodel?
You can remodel your kitchen at any time. In fact, whenever you feel a strong need to make some structural or design changes to your space – that is a good time to get things rolling.
But right now, at the beginning of the year, now is a good time to add this to your main list of things-to-do around the house. The busy holiday season is over so now would be a good time to have construction carried out in the house, especially in the kitchen. And because you're in the West Coast, you don't have to worry about winter weather.
So yes, this is a good time to plan a kitchen remodel. Are you ready to get things rolling?
Kitchens in newly-bought houses sometimes need remodeling too
Now, if you were thinking that a newly-purchased property does not need any remodeling work, think again. Even if you've just closed on a house in San Diego, you may very well need a remodel. We carry out such renovations all the time.
The thing is, you can never buy a house that has everything exactly as you would like it. So a San Diego kitchen remodel would be a good way for you to make all the changes you have been thinking about. And by doing so you will finally have your dream kitchen just as you'd like it.
Some of the changes you might want to make to a kitchen in your new house may include:
Space - Opening up your kitchen some more.
Lighting - Making your kitchen brighter.
Layout - Making your kitchen floor plan more functional.
Storage - Adding more storage space to your kitchen.
Some of the areas in your San Diego kitchen that might need updating
What should I update in my kitchen?
If you agree with us that your kitchen might need a remodel because it has been a number of years since, then now we need to look at the different upgrades you might be looking at.
Which of these do you agree your kitchen really needs?
Backsplash
Cabinet doors and handles
Lighting fixtures
Flooring
Faucets
Plumbing/drain
Why a kitchen remodel is worth it
Is it worth it to remodel a kitchen?
A San Diego kitchen remodel is definitely worth it if your space needs it. There are lots of clear benefits which you (and your entire family) will enjoy for many years to come. These benefits include:
If you create a better or bigger kitchen setting, you can entertain your guests in it easily.
It will be easier to cook and clean
A newer, updated kitchen makes cooking easier. You'll have better appliances, more storage, and better organization. Prepping food and cleaning up after meals will be easier too.
A more aesthetic and inviting space
Hate getting things done in the kitchen? A remodel will make the space more inviting. You'll feel more comfortable in there and it will be a beautiful space all around.
A kitchen remodel is an investment that will push your home value up. And of all the rooms you can remodel in your house, a kitchen has the best value addition promise.
--
Make the decision to finally carry out that kitchen remodel this year. Talk to us to get a FREE quote. Creative Design & Build is offering a 15% discount on kitchen remodels - something you should really take advantage of. You can also visit our showroom and meet our team members who will show you all the possibilities we can bring to your kitchen. Or if you'd like to talk to us now, simply call us on (866) 930 0059.