Remodeling Your Kitchen in San Diego? Here Are Some Great Ideas for Entertaining
Do you have a vision of what you want your kitchen to look like? Well, your dream kitchen is within your grasp at Creative Design & Build, San Diego. We specialize in creating the kitchen remodels of your dreams at an affordable price without skimping on quality.
Our design-build San Diego team delivers functional, beautiful spaces that your guests will love. Whatever your taste may be, our team will actualize it step by step to ensure that you get exactly what you envisioned.
Do you love to entertain? As we consider your design, we have some great ideas that work greatfor entertaining guests. We have incorporated many of these into our clients' remodel with great success.
Update your countertops
Your kitchen countertops are great for laying out drinks and food for your guests. We advise our clients to choose a countertop that is both functional and has an aesthetic appeal.
Which material best captures these two aspects?
At our design-build San Diego firm, we find that most of our clients prefer white marble. However, this countertop may be hard to keep clean at times and it can stain easily. The other great option that is less of a hassle and has great thermos insulation properties is quartz. It also does not scratch or stain easily and still adds a glam detail to your kitchen.
Increase your seating
Adding some bar stools to your kitchen island is a great way of creating space to entertain in your kitchen. While this depends on the size of your kitchen, adding a few barstools will help to make the meal prep less of a chore and part of the dinner party.
Consider the height of your countertops and island as you shop around for the perfect stools. Look out for comfortable stools, take up little space and add character to your kitchen. The color scheme should also work well with your walls and floors. Luckily, your bar stool can splash some color into the space or they can tone down an otherwise bright room. Either works.
Consider an open plan kitchen
If your kitchen is more traditional and closed off from the rest of the house, you should consider an open plan for your kitchen remodel. Most of our clients at our design-build San Diego firm rave about how this layout change has upped their entertaining game.
Are you concerned about cooking odors drifting into your living areas? Invest in a hood over your stove to take care of this. An open kitchen is a great remodel idea as it allows your guests to be part of the meal prep and makes transportation of food and drinks to the dining area seamless.
Consider more storage
Entertaining guest in your kitchen means that you need to keep clutter out of sight. Including extra cabinet space in your remodel is a great way of doing this. Choose custom cabinetry that will lend a sophisticated charm to your kitchen.
With all these additions, it is normal for clients to ask, what is the average cost of a kitchen remodel in San Diego?
Well, kitchen remodels costs will vary for various reasons such as space, additional revamps, the size of the project, and so on. Our kitchen remodeling and design process include a preliminary analysis and free site visit to assess the cost of your intended project.
Select the right material for flooring
Gone are the days that kitchens were considered wet areas and thus the material used to floor them was more functional than aesthetic. In your kitchen remodel, consider a flooring material that will create a uniform look in the house. This is especially true if you are going for an open kitchen design. These are some great ideas for flooring material that can be used throughout the house:
Hardwood
Vinyl
Laminate
Cork
What should you not do in a kitchen remodel? You should not consider the kitchen a separate room on its own. Look to create synergy in your remodel to make it a space that flows into the rest of the house seamlessly.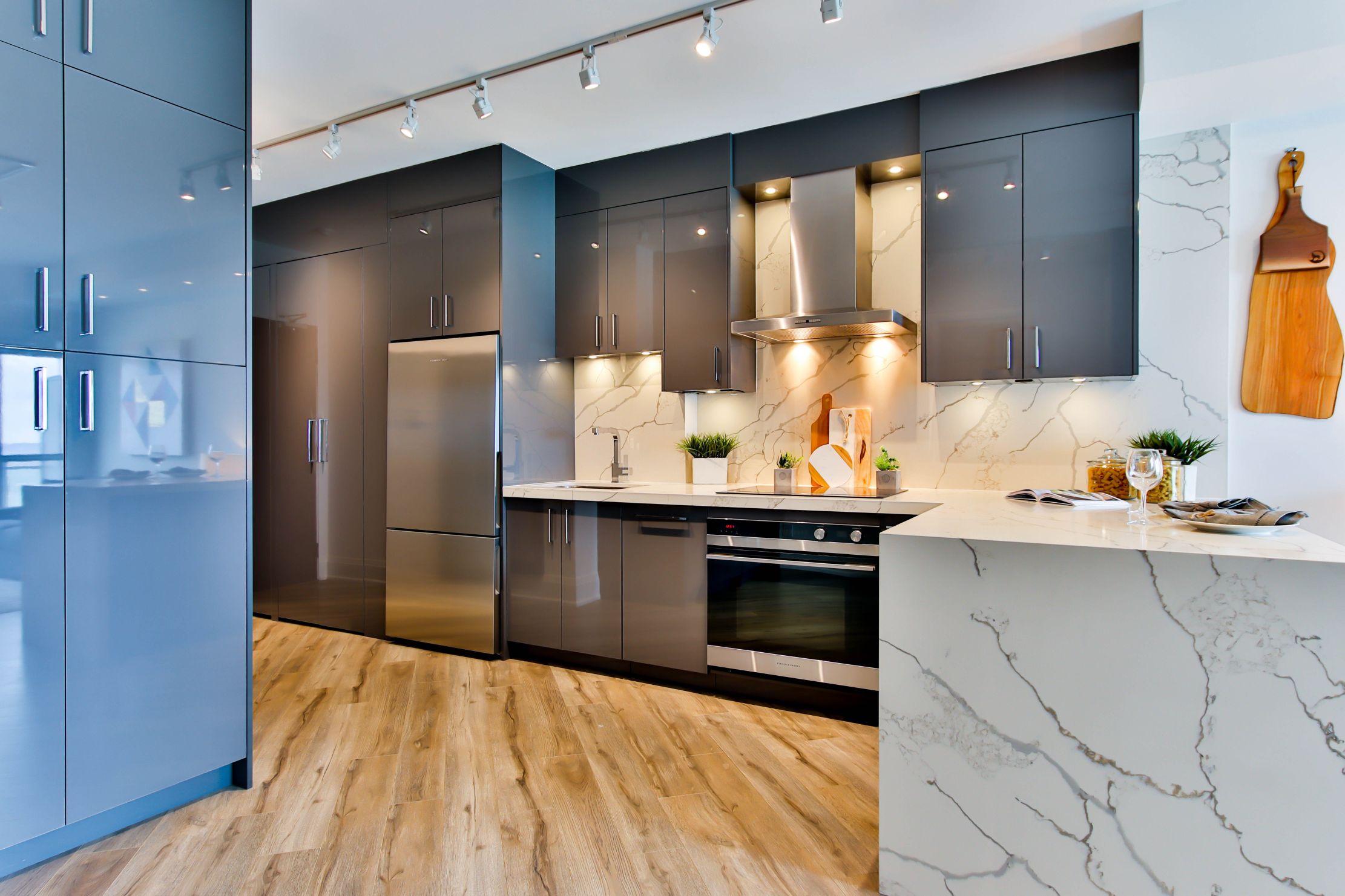 Your lighting is also key
Lighting plays a huge role in making a room inviting to guests. Play around with light fixtures that will be both aesthetic and that will bring a warm ambience into the kitchen space. Some important areas that could do with improved lighting are over the counters as well as over the stovetop.
Light fixtures should also be thought through. They should lend to the charm and elegance of the entire kitchen remodel. Think about having a focal point with a light fixture hanging over a kitchen island. In addition to that, you could have recessed lights for a more ambient vibe.
Is this why kitchens are so expensive to remodel? Not entirely. Our design-build San Diego firm will work with you and stay within your budget while ensuring that you will enjoy entertaining after your remodel.
Consider the layout of your kitchen
What kitchen design layout is ideal for a family and entertaining guest? This is a valid question to ask in your initial consultation with our kitchen remodeling and design team in San Diego. As mentioned earlier, the open kitchen concept works best for entertaining and also in a family home.
An open kitchen allows your guests to be part of the cooking process and at the same time allows you not to feel left out as you cook. Serving food and drinks is also easier as you can include a drinks station that guests can access and serve themselves from.
Final Thoughts:
Is your kitchen up for remodeling? If you live in the San Diego area, contact our kitchen remodeling and design team at our design-build San Diego firm for an initial consultation. We offer great kitchen remodels at an affordable price. Once you contact us, we will visit your site for a free preliminary assessment. If you choose to sign up, we will proceed to design your space with your input, secure all the permits that you need, and bring your project to completion within the agreed upon time frame.