Remodeling your Bathroom in San Diego, CA
Your bathroom is one place in your home that you should never let deteriorate. Because it is a place where one goes to clean up or freshen up, the bathroom area should always look clean and tidy. But after some use over a couple of years, any bathroom will need some work. And that is where we come in as Creative Design and Build Inc.
We are one of the best bathroom remodeling San Diego CA companies. And we can help you transform any shabby or worn master/kids'/guest bathroom just like that.
Let's talk about what this involves in terms of costs, timelines, value, and more.
Do you need a bathroom remodel?
Most bathroom remodels are driven by these 4 factors. Which of the following four reasons would you say is behind your quest to remodel your San Diego bathroom?
Change the style of a bathroom
You might want to change the style of a bathroom if you've outgrown it, or if you just moved into a new apartment/house. It's important to give such a personal space your own feel and style.
Add more features to a bathroom
As your needs and preferences change/evolve, it is important to update your bathroom by adding what you need and taking away what you don't. For example, you might want a bigger tub or "his & hers" double vanities instead of just one.
If you have not made any updates to your bathroom over time it is important to do so when you are able. Doing so will improve the value of your house. But more importantly, it will increase the quality of life you're enjoying at home.
Add more space to a bathroom
Most homeowners would love to have a bigger bathroom any day. With a bigger bathroom you can have a bigger shower area, a bigger tub (or just a tub), a bigger vanity where you can get ready in style, and more wiggle room in general.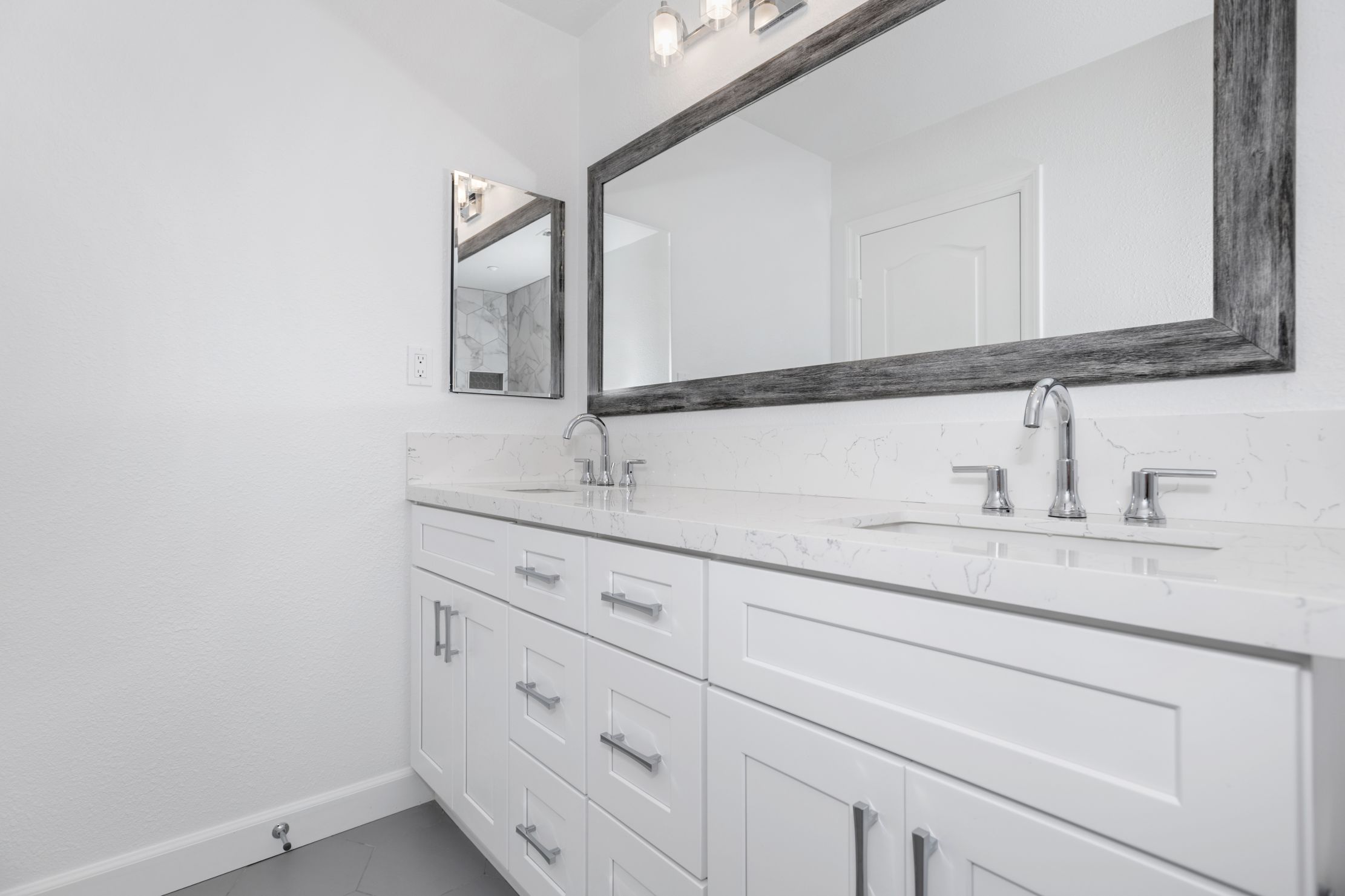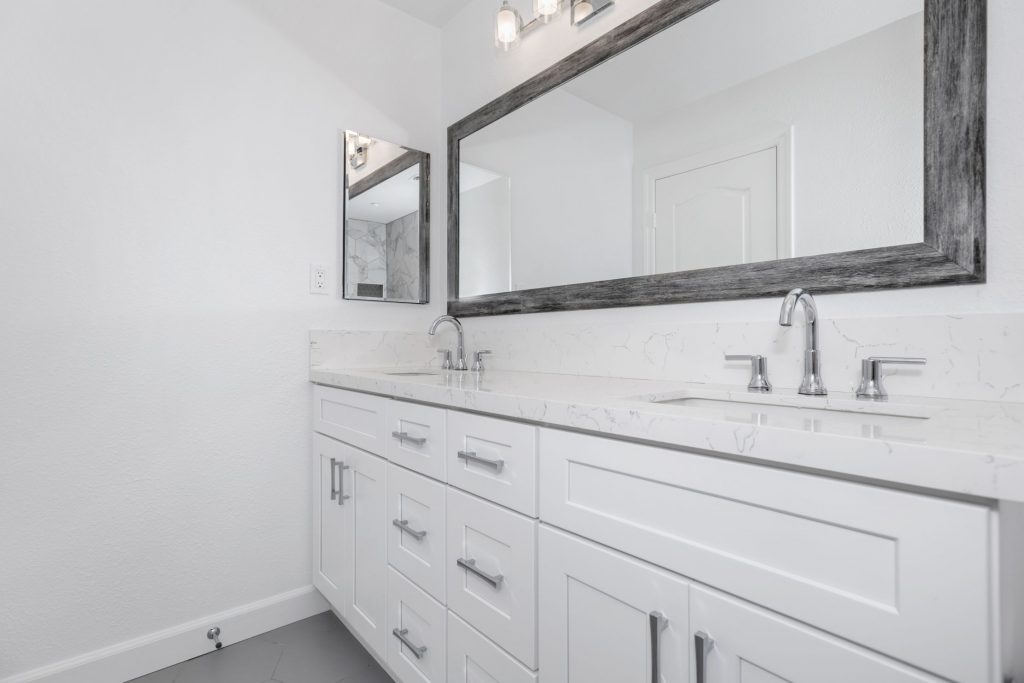 The most important aspects of a bathroom remodel
In what order should I remodel my bathroom? It's good to know which needs on a bathroom remodel take priority over others. That way you can create a budget that ensures the most important works are done regardless of what happens.
Some of the key areas of a bathroom remodel include:
This includes checking piping connections, boosting water flow, upgrading water heating equipment, looking for leaks, dealing with mold, etc.
New tiling improves the look of a bathroom and also waterproofs the walls and surfaces to prevent rot or mold underneath.
A new vanity set is a great way to refresh an old bathroom after having used it for many years. You could get a newer unit with more storage space, a different design, and with newer sinks and faucets.
Good lighting is critical during your bathroom remodeling San Diego, CA. This could involve painting the walls brighter, installing lighter tiles, putting in a larger window, and of course putting in different lighting fixtures.
Does your bathroom get stuffy or humid after a shower? Good aeration keeps the bathroom feeling fresh and prevents moisture problems brought about by condensation. This can be dealt with via vents, window fans, air conditioning, and windows.
How much does it cost to remodel a bathroom in San Diego?
It is important that you understand what costs you're facing as you plan for your bathroom remodeling San Diego CA project. That way you can save up and carry out a remodel that counts and ticks all the areas you need worked on.
How much does the average bathroom remodel cost in California?
On average, a bathroom remodel in San Diego will go for about $10,000 to $20,000. Depending what you need done, your quote could come lower or higher than this. Make sure to also have a contingency for unforeseen costs such as mold and rot repair.
What is the most expensive part of a bathroom remodel?
The big ticket items in a bathroom remodel include labor costs, structural changes, and installation of new fixtures such as tubs, shower enclosures, and vanities.
Looking for a San Diego bathroom contractor?
You want a bathroom contractor that is professional, knowledgeable, experienced, licensed, insured, & bonded. That way, you know you're dealing with a legitimate and serious professional that will get the job done.
How do I find a contractor to remodel my bathroom?
You can always search for a bathroom contractor online. If you're in SD, you can look up "bathroom contractor near me" for Google recommendations. You can also look up review sites and check out some of the companies with the best ratings. But even as you search online, remember it's not a fool-proof process. Outside the internet you can try asking for recommendations from friends, family, and co-workers.
Talk to a few bathroom remodeling San Diego CA companies. Ask for estimates after a physical evaluation of the work to be done. Then choose the bathroom contractor that you are confident will give you the results you want.
Plan your bathroom remodel like a pro
How do you plan a bathroom renovation? If you're starting from scratch, here's a rough plan to get you started:
Assess your bathroom remodel needs
Come up with a list of which areas of your bathroom you need worked on the most. Place preference on utility over aesthetics.
Figure out how much you can put into your budget
As we said earlier, a bathroom remodel in San Diego will cost you between 10K and 20K on average, more if you need to install big fixtures. See how much you can put aside for this project.
Compare bathroom remodel contractors
Look for San Diego bathroom contractors, collect quotes, discuss the work to be done, and see what your budget can get you. When you choose a contractor, set a commencement date and get a contract drawn up.
Plan how to cope with the remodel as it takes place
How long does a bathroom renovation take? Discuss this with your contractor. It could take anywhere between 5 -14 days on average. Plan which alternative bathroom to use during this time if you can't use the bathroom in question.
--
Are you ready for your bathroom remodeling San Diego CA? At Creative Design & Build we are highly experienced in all types of bathroom renovations. And we are based in San Diego. Whether you need repairs done, a complete makeover, or particular upgrades, we can give you what you need.