Shower Remodel in San Diego: A Creative Design & Build Success Story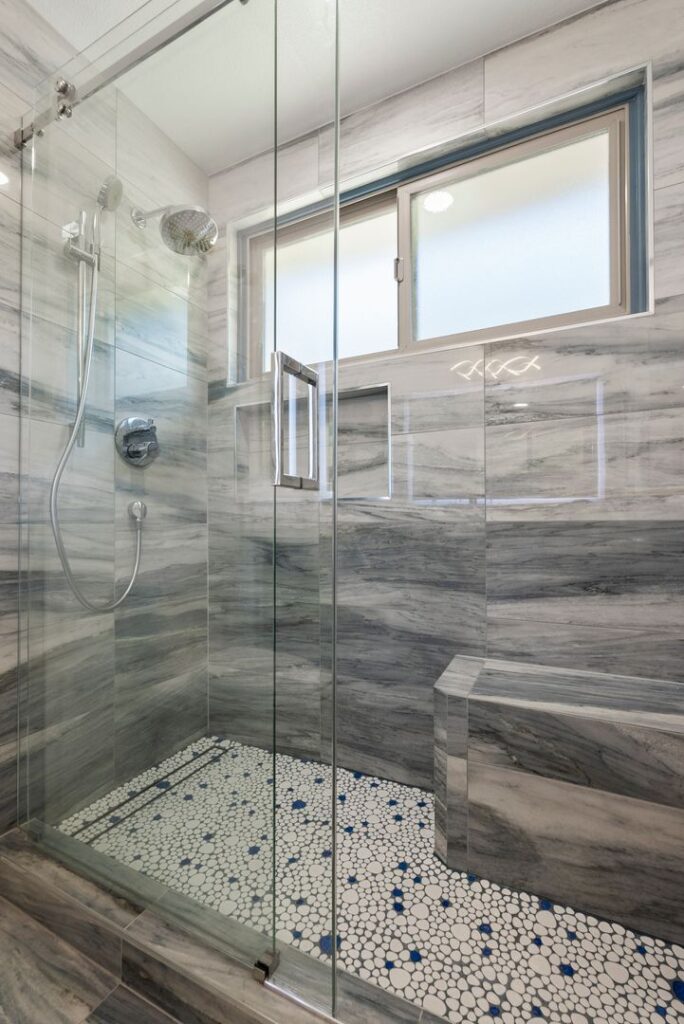 At Creative Design & Build, Inc., we pride ourselves on delivering top-notch home remodeling services. We have been serving the San Diego community for more than 15 years, offering industry-leading design and build solutions. One of our recent projects, a shower remodel in San Diego, stands out as a testament to our commitment to quality and customer satisfaction.
About the Project
The project was aptly titled '92124 Shower Remodel,' named after David M., the homeowner's zip code. David was looking for a complete overhaul of his bathroom, including updates to the shower, toilet, vanity, sinks, and flooring. He had heard about us through Yelp and decided to give us a shot based on our solid reputation in the industry.
The Vision
David wanted his bathroom to reflect his personal style while also being functional and modern. The full bath layout included a custom-built shower with a hinged door, vanity cabinet made of solid plywood, basic wood cabinets, and quartz countertops. The materials chosen for the shower were tile and stone - classic choices that lend an air of elegance to any space.
The Execution
Our team worked diligently over approximately one month to bring David's vision to life. We started by removing the old fixtures and preparing the space for its transformation. Then we installed the new components, ensuring each piece was perfectly fitted and functional.
Shower Remodel in San Diego: A Blend of Artistry and Craftsmanship
The centerpiece of this project was undoubtedly the custom-built shower. We used a mix of tile and stone to create a unique, engaging aesthetic that also provided the durability and easy maintenance David desired. The hinged door added a touch of modern sophistication, while the full bath layout ensured optimal use of space.
Final Touches
With the shower in place, we moved on to the other elements. The vanity cabinet, made from solid plywood, offered ample storage without compromising on style. The basic wood cabinets complemented the overall design, while the quartz countertops added a touch of luxury.
Customer Satisfaction
David was thrilled with his new bathroom. He appreciated our punctuality and excellent service throughout the project. His review on Yelp further cemented our reputation as a reliable home remodeling contractor in San Diego County.
Parts updated: Shower, Toilet, Vanity, Sinks, Flooring.
Floorplan type: Full Bath Layout.
Shower Build: Custom.
Bathroom Shower Door: Hinged Door.
Bathroom Shower Materials: Tile, Stone.
Bathroom Vanity Type: Vanity Cabinet.
Bathroom Vanity Material: Solid Plywood.
Cabinet Types: Basic wood.
Countertop Type: Quartz.
At Creative Design & Build, Inc., we believe that every project is an opportunity to showcase our expertise and dedication to customer satisfaction. We're proud of our work on the 92124 Shower Remodel and look forward to creating more success stories in San Diego and beyond. If you're considering a shower remodel in San Diego, we'd love to help. Contact us today at +1 866-627-2001 or visit our website at https://www.creativedesignandbuildinc.com/ for more information.
Testimonial:
---
Shower Remodel in San Diego: A Creative Design & Build Success Story

At Creative Design & Build, Inc., we pride ourselves on delivering top-notch…

September 26, 2023

Home owner

92124 Shower Remodel
92124 Shower Remodel
92124 Shower Remodel
Location:
---
San Diego, CA, USA