Master Bathroom Remodel in Encinitas: A Testament to Creative Design & Build's Excellence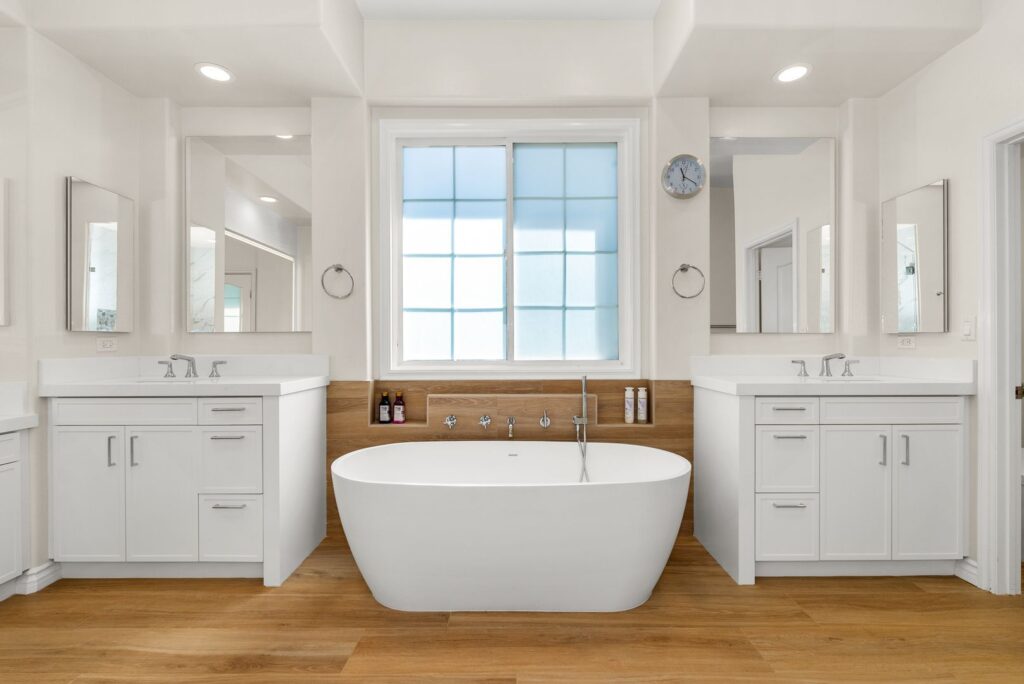 At Creative Design & Build, Inc, we pride ourselves on our ability to transform spaces into functional and aesthetically pleasing areas. Our reputation precedes us, not just because of our years of experience, but also due to our commitment to delivering excellent service. This is a tale of how we took on a large master bathroom remodel project in Encinitas and turned it into a masterpiece.
Understanding the Client's Vision
When Dan M., an Encinitas resident, approached us for his master bathroom remodel project, we knew we had to deliver nothing short of excellence. His choice was based on our reputation - a testament to the quality of work we have been delivering for over 15 years. He envisioned a space that was not only functional but also exuded elegance and style.
The Journey Begins: Planning and Designing
We started off with an extensive discussion with Dan about his preferences and needs. He wanted his large master bathroom to have a custom shower build, vanity cabinet, and freestanding tub. The materials for the shower were to be tile - a classic choice that never goes out of style.
Bath: Updated with modern fixtures.
Shower: Custom-built with tile materials.
Vanity: A new vanity cabinet installed.
Countertops: Upgraded to a more contemporary design.
Flooring: Replaced with a more durable and stylish option.
Executing the Master Bathroom Remodel in Encinitas
The execution phase of the project was methodically planned. Our team of seasoned professionals ensured that every detail was meticulously handled. The project spanned over a couple of months, during which we regularly communicated with Dan to keep him updated about the progress.
The Transformation Unfolds
The bathroom started taking shape as we began implementing our plans. The freestanding tub added a touch of elegance, while the vanity cabinet provided ample storage space. The custom-built shower was not only functional but also added to the overall aesthetics of the bathroom.
Completion and Client Satisfaction
After a couple of months of hard work and dedication, we were able to turn Dan's vision into reality. The bathroom remodel was completed on time, much to Dan's delight. He recommended our services for our excellent service and timely completion. In conclusion, this master bathroom remodel in Encinitas is one among many success stories that stand as proof of our expertise and commitment. At Creative Design & Build, Inc., we continue to strive for excellence, transforming spaces one project at a time. Our business is located in San Diego County, and you can reach us at +1 866-627-2001 or visit our website at https://www.creativedesignandbuildinc.com/. Let us help you transform your space into something truly spectacular!
Testimonial:
---
Master Bathroom Remodel in Encinitas: A Testament to Creative Design & Build's Excellence

At Creative Design & Build, Inc, we pride ourselves on our ability…

October 20, 2023

Homeowner
Encinitas Master Bathroom Remodel
Location:
---
Encinitas, CA, USA