Exquisite Bathroom Remodel in San Diego: A Creative Design & Build, Inc. Success Story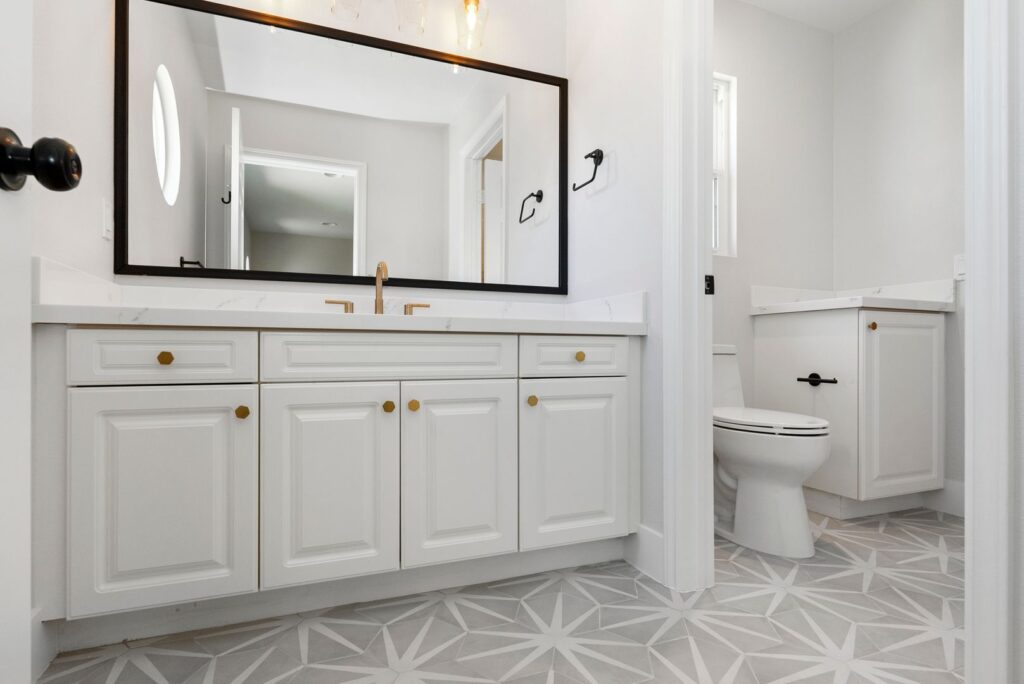 At Creative Design & Build, Inc., we pride ourselves on crafting stunning spaces that not only meet our clients' needs but exceed their expectations. Our latest success story involves a comprehensive bathroom remodel in San Diego, specifically in the 92129 area.
A Client's Vision Becomes Our Mission
Our client, Lola M., reached out to us with a vision for her bathroom that needed the touch of experienced home remodeling contractors. Lola chose us because of our reputable standing in the industry and our commitment to delivering excellent service on time. The project encompassed updating various elements of the bathroom including the shower, vanity, toilet, countertops, and flooring. Lola desired a custom-built shower with a hinged door and a vanity cabinet that would blend seamlessly with her new quartz countertop.
Transforming Spaces into Experiences
This bathroom remodel was more than just a renovation project for us; it was an opportunity to transform an ordinary space into an extraordinary experience for Lola. From the initial consultation to the final reveal, we ensured every detail was meticulously planned and executed. We started by stripping the old fixtures and fittings, preparing the space for its transformation. The custom shower build was one of the standout features of this project – designed to offer maximum comfort and functionality while enhancing the overall aesthetic of the room. In addition to this, we installed a vanity cabinet that not only provided ample storage but also added a touch of elegance to the space. The quartz countertop was the perfect complement, adding an element of luxury and sophistication.
Unveiling a Bathroom Oasis
After about a month of hard work and meticulous attention to detail, we were ready to unveil Lola's new bathroom. The result was nothing short of stunning – a beautiful blend of functionality and style that reflected our commitment to quality and craftsmanship. The updated shower, vanity, toilet, countertops, and flooring all came together to create a harmonious design. The custom-built shower with its hinged door added a touch of modernity while the vanity cabinet and quartz countertop exuded an air of elegance.
The Creative Design & Build Difference
Our success in this bathroom remodel in San Diego can be attributed to our dedication to excellence and our unwavering commitment to client satisfaction. With over 15 years of industry-leading design experience, we have honed our skills to deliver results that not only meet but exceed expectations.
Our reputation for delivering on time and providing excellent service.
Our expertise in home remodeling, particularly bathroom and kitchen remodeling.
Our commitment to using high-quality materials for all our projects.
At Creative Design & Build, Inc., we believe every project is an opportunity to create something extraordinary. Whether it's a simple update or a complete overhaul, we approach every task with the same level of passion and dedication. This bathroom remodel in San Diego is just one example of how we turn visions into realities. If you're looking for experienced home remodeling contractors in San Diego County, look no further than Creative Design & Build, Inc. We're ready to bring your vision to life. Contact us today at +1 866-627-2001 or visit our website at https://www.creativedesignandbuildinc.com/ for more information.
Testimonial:
---
Exquisite Bathroom Remodel in San Diego: A Creative Design & Build, Inc. Success Story

At Creative Design & Build, Inc., we pride ourselves on crafting stunning…

September 14, 2023

Homeowner

92129 Bathroom Remodel
92129 Bathroom Remodel
92129 Bathroom Remodel
Location:
---
San Diego, CA 92129, USA