How to make your large kitchen not to appear massive and empty
Granted, most homeowners worry about how to make smaller kitchens appear larger in terms of function and looks. However, today we look at another problem that, although not common, there are some proud homeowners grappling with. And that is: how to make a large kitchen space not appear like a massive empty boring space. Can this be done? Of course it can! Check out some tips below on how to keep a large kitchen but make it look more modest than it actually is.
Install big floor tile pieces
Small floor tiles give the impression of going on and on and on. They can therefore make a floor surface look long. Larger floor tile pieces in turn have the opposite effect. Fewer of them are needed to span wall to wall, or from the center island to the wall. This creates the illusion that the floor is smaller than it really is.
Install low hanging lighting
A large kitchen is bound to have tall ceilings. The combination of height and width will further amplify the volume of your kitchen space and make it look massive. You can reverse this by installing low hanging ceiling lighting, e.g. pendant lights or chandelier lighting. These lights not only offer better illumination for your large space, they also mask the tall ceilings and make the room look a little more compact.
Put in a large centerpiece island
In a larger kitchen you are bound to find a U-shape layout design. Most modern kitchens will have an island and others will feature a peninsula design. If your large kitchen space does not have an island, install one. And not just any island, go for a large island that will reduce the empty space in the middle of your kitchen. In doing so you also get more storage and countertop space. You can also remodel and swap a small island for a large one.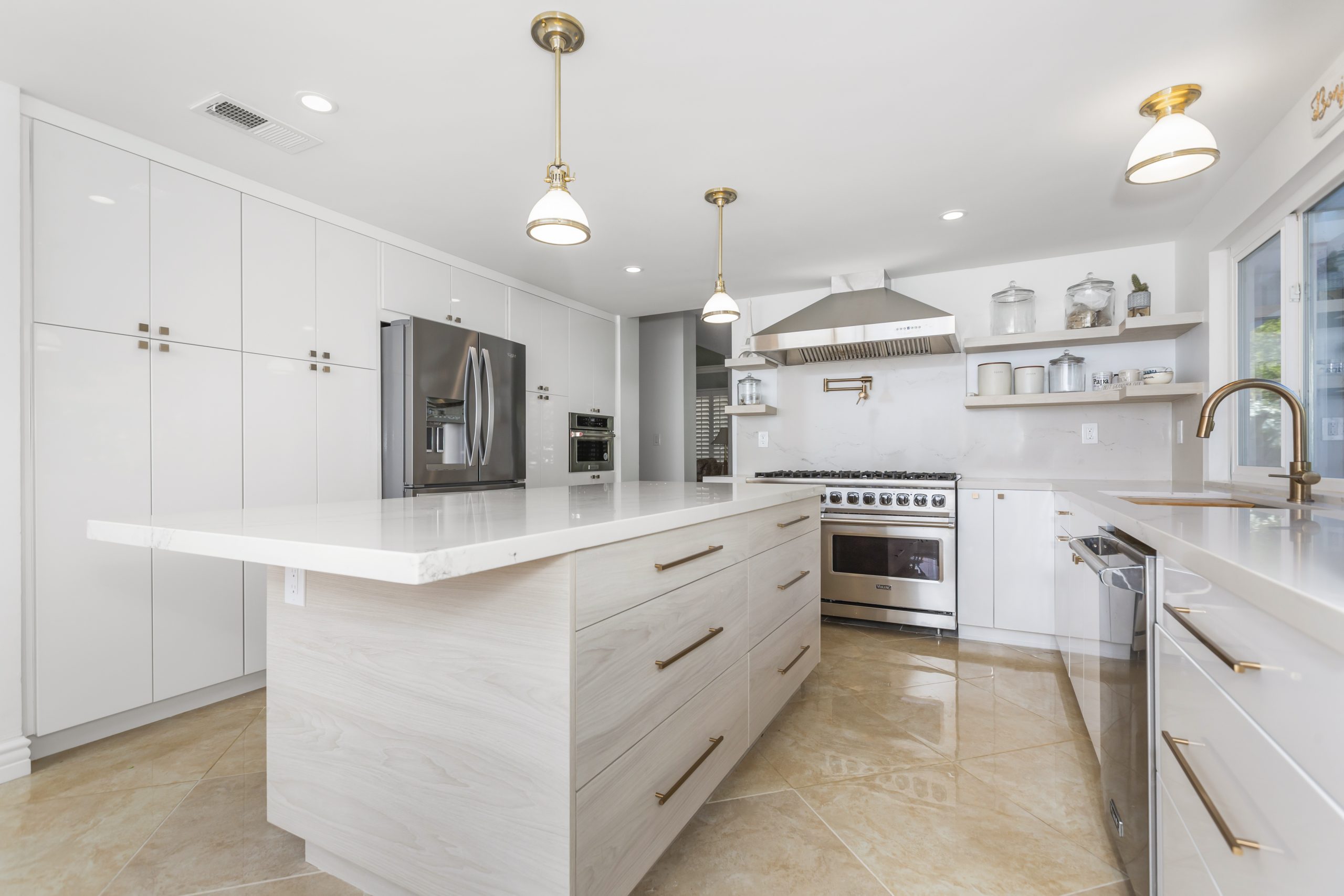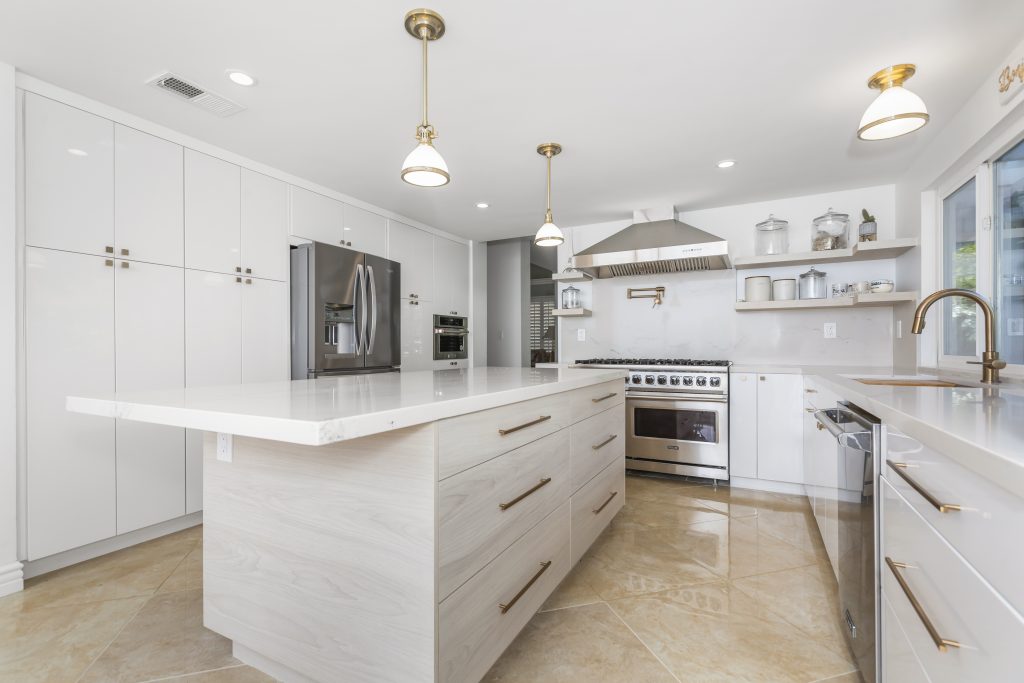 Wall mounted kitchen cabinets
Wall kitchen cabinets will help to marginally and visually shrink your kitchen's size. With each kitchen cabinet taking almost two feet of space from the wall, having them installed on 3 of your 4 walls will encroach on your indoor space and reduce its volume. In return you get more storage space and stylish cabinets to add character to your space.
Breakfast nook /Breakfast bar
Another crafty and modern way to add function while cutting back the intimidating sixe of a large kitchen is to add a breakfast bar. You can have this added to the center island or on any one of the walls. The added seating eats up floor space and takes from the floor square size. Alternatively you can install a breakfast nook instead - either on one of the walls or at the corner.
Add a pantry
Still have room to play around with? How about a pantry? A pantry helps to keep your kitchen organized and neat by tucking away supplies in a concealed nook. And a large kitchen needs a large pantry of course. Talk to us about kitchen pantry designs and styles. We can help design where and how to put in one.
Talk to Creative Design & Build for kitchen remodeling San Diego County services. We are here to give you the kitchen of your dreams and more.