Stamped Concrete: What We Love About It!
Since it came into style a few years ago, stamped concrete has enjoyed great success and lots of positive feedback from clients and contractors alike. We work with stamped concrete a lot and we love it too. And the same reasons we love this paving technique are the same reasons why you might want to install the same in your driveway, poolside, patio, or other part of our outdoors.
Quick & easy to install
Stamped concrete is easy to install. The process is straightforward and not complicated at all. Once the ground has been prepared and stabilized, the concrete is simply poured into place. It is then stamped into the agreed design before being left to cure and harden. As you can see, chances of things going wrong are quite minimal here. Not only can the ground be installed within a relatively short amount of time, the process also doesn't require fitting of pieces bit by bit as is the case with pavers.
Ideal for kids use
It is important to evaluate just how friendly your choice of paving is to your entire family. Stamped concrete provides a safe and gentle surface for kids to play on. Unlike asphalt or paving blocks which are rough and textured, stamped concrete has a smooth and even surface. Your kids can play on this surface without incurring any breaks or cuts on their skin easily. Even for textured finishes you can have smooth pebbles added onto the surface and still enjoy a smooth finish that is safe for kids' use.
Easy to clean
When it comes to maintenance, stamped concrete and even plain concrete surfaces are quite easy to work with. They do not stain as easily as pavers, tiles or natural stone and they are easier to wipe or brush compared to asphalt. In most cases simply spraying the surface with a high pressure washer will do the trick. Whether you have kids or like to entertain outside, cleaning up after won't be that much of a chore.
Numerous designs to choose from
One of the most attractive perks of stamped concrete is the design versatility it offers. The finished surface can be stamped into almost any design. Most interestingly, you can get designs that resemble bricks, pavers, timber, tiles, natural stone, brick, cobblestones, and more. This way you can enjoy the affordability and easy maintenance of concrete while adding the aesthetics of timber, brick or any other material.
Versatile use
The versatility of stamped concrete goes far beyond design. It also stretches to use. Grounds covered in stamped concrete can be used for a lot of uses, either exclusively or all together. These applications include parking cars, as outdoor eating areas, patio grounds, kids' playing grounds, driveways, cleaning areas, DIY workshops, etc.
Love stamped concrete just like us? Request a quote from Creative Design & Build to see just how affordable it can get. We also provide other hardscaping options such as laying pavers and fire pit installation and more.
5 Kitchen Remodel Layouts To Consider
You one day walk into your kitchen and decide that it may be time for a remodel. But what options do you have? The traditional kitchen remodeling set up that separates the kitchen counter top from the sinks and other appliances has evolved over the years, making modern kitchens more functional work zones. We take you through the top five kitchen layouts that you can consider. So grab your notepad and let us dive right into it.
One – Wall kitchens
Do you live in a loft or a studio apartment? Then the one –wall kitchen layout is the best for you. It is also known as the 'Pullman kitchen'. The kitchen area is concentrated on one wall, where all the cabinets, the sink, and other kitchen appliances are fixed onto the wall.  The Pullman layout allows for total maximization of the limited space. That said, this layout may require you to set up the dining area slightly away from the kitchen area due to the limited space.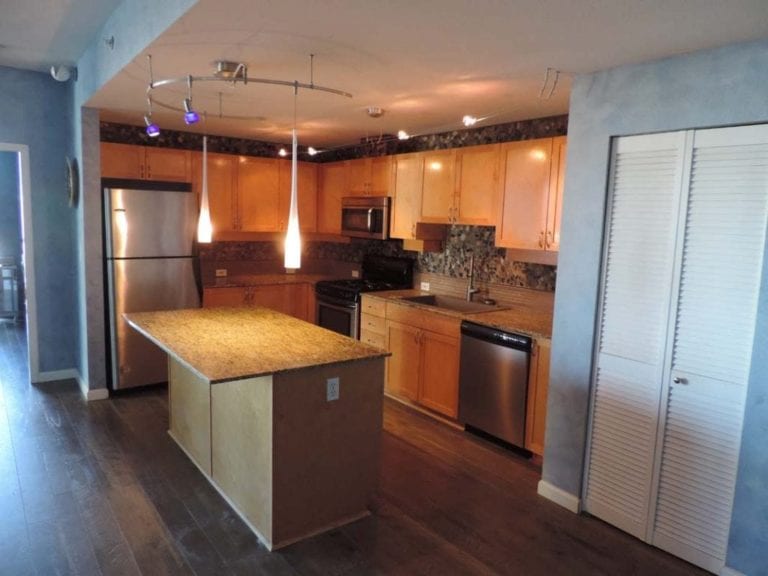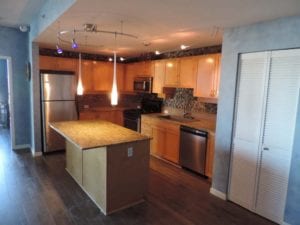 Galley Kitchens
Don't we all love functionality? The Galley kitchen layout is ideal were one has the advantage of a slightly larger space than a loft or studio apartment allows. The kitchen is set up in a 2 wall layout where the kitchen appliances, cabinets and the sink are fixed on either side of the wall. It creates a sort of walkway right in the middle of the kitchen. Galley kitchens are simple to install, as the 'hallway setup' eliminates the hassle of installing troublesome corner cabinets and sinks.
L – shaped kitchens
Don't mind corner cabinets? Clients that wish to take advantage of the corner spaces can forgo the galley layout for the L- shaped one. It maintains a 2-walled setup; only this time, the two walls are perpendicularly adjoined, forming an 'L'. It is ideal in houses where the walkway in galley layout does not leave enough room for traffic. The L – shaped kitchen allows for appliances and countertops to be installed to the furthest corner, maximizing the space available for traffic for a more functional work-area.
U – Shaped kitchens
Are you more of a family guy? The U – shape kitchen; also known as the 'horseshoe kitchen' is just right for you. The layout is best for roomy kitchens with the advantage of occupying three walls. The sink, cabinets and appliances are installed on each wall. A counter is then installed right in the middle of the kitchen, giving it that horseshoe or 'U' design. If the kitchen is roomy enough, you can install dining seats around the counter. The horseshoe layout allows for functional traffic flow around the kitchen.
Kitchen islands
Kitchen islands are not that different from U – shaped ones. The layout consists of sinks, appliances, and cabinets on the three walls. The noticeable difference is the counter in the middle of the kitchen. It is slightly larger than normal, increasing the work surface of the kitchen. Do you need more work space? You may install additional cabinets and sinks to the middle counter while leaving enough room for dining seats around it.
Creative Design & build is able to guide you on the most functional kitchen set up for your remodel based on the kitchen size, number of appliances and expected traffic for the kitchen. Contact us today and transform your old set up into your dream kitchen!
The decision to have your home remodeled is a pretty straight one to make. However, choosing the right contractor for the home remodel may not be as simple. Clients get bombarded with hundreds of results upon initiating a simple search on the internet. So how do you choose the right contractor from the hundreds of available firms? We have compiled for you a list of 5 critical questions that you should ask a potential contractor before commencing any repairs or remodeling works.
How long have you been in the industry?
Practice makes perfect. It is within your right to want to know how long the contractor has been in the industry. Experience, just like in any other work scenario, contributes a lot to the quality of work. A contractor that has been in the industry for at least 10 years has most likely tried all the market trends and innovations in the construction field. Therefore, they are more likely to offer better services compared to younger firms/contractors. Although this is not an exact science, you are better off with a contractor that has more years under their belt.
Are you licensed?
A home remodel costs money; your hard earned money. So you want to be served by a firm that is legally qualified to offer such services. Most contractors are regulated by the state government. For instance, contractors in California are required to be licensed and registered with the California Department of Consumer Affairs Contractors State License Board. Working with an unlicensed firm could get you on the wrong side of the law. In case of malpractice, your building may face demolition.
Have you handled such a project before?
Contractors are different. Some specialize in roofing, others in paving, and others in bathroom remodels and so on. Renowned firms have a reliable team of experts that specialize in every project. Be keen to ask if they have undertaken a similar project in the past. A confident contractor will give you a detailed response on their procedures. You can also insist on viewing their portfolio of previous projects just to be sure.
What ideas can improve my project?
You hire contractors because they have the technical knowhow of what works and what doesn't. A good contractor shall provide you with specific details concerning ways of improving your project or why they prefer a certain material to another. For instance, a contractor seeking to undertake a kitchen remodel should advise you on the different kitchen layouts that work for your space. A contractor that refrains from giving you their professional input is a red flag.
Do you have any references that may vouch for you?
Good work speaks for itself. Satisfied clients like recommending a good firm to others. Dissatisfied clients, too, are sure to voice their complaints. Asking for references gives you an insight of what others think about the contractor's services. You can view these from testimonials on their website, or independent and trusted reviewers such as Yelp or Home Advisor.