Revitalizing Kitchens with Modern Cabinet Services in Chula Vista, CA: A Success Story by Creative Design & Build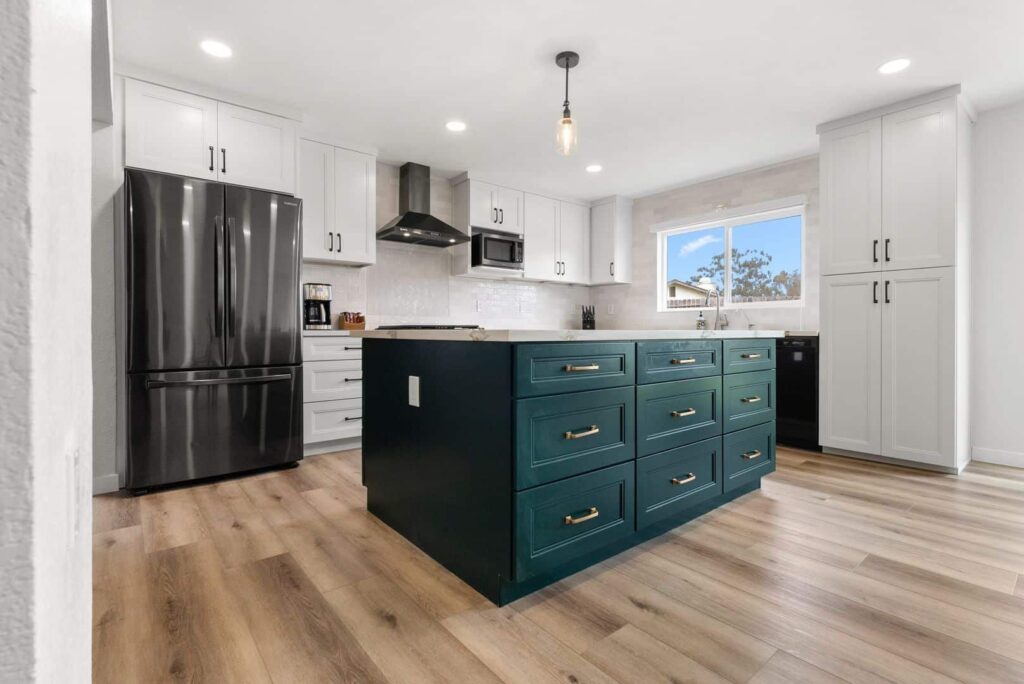 At Creative Design & Build, every project we undertake is a testament to our passion for creating spaces that enhance lives. Our recent engagement with Sarah M., a resident of Chula Vista, CA, serves as an inspiring example of what our cabinet services can achieve.!
The Consultation: Understanding the Canvas
As seasoned home renovation professionals, we understand that every good design journey begins with understanding the client's needs. In Sarah's case, it was about replacing 30-year-old cabinets that had witnessed better days. Our team prepared diligently for the initial consultation – we equipped ourselves with the necessary tools and discussion points to pinpoint her requirements. With immense gratification, we recall stepping into Sarah's kitchen – a space crying out for renewal. From chipped surfaces to faded colors and broken drawers – it was evident that her old cabinets had served their time. But beyond those limitations, we saw potential; the prospect of making beauty out of dilapidation excited us immensely. In conversation with her, she indicated her preference for modernity combined with functionality - an inviting challenge for our team of designers.
Tailoring Designs to Life
Back at our design studio in sunny San Diego County is where magic happened; ideas were translated into tangible figures. Drawing upon 15+ years of design experience, the team engineered a custom plan for modern wooden cabinets suffused in a pristine white finish. But we didn't stop there! We infused practical features such as soft-close drawers designed to prevent those frustrating early-morning clatters, pull-out trash cans promising easy reach, spice racks enhancing organization and under-cabinet lighting offering atmospheric illumination. However attractive on paper these plans might have seemed, they were nothing but speculative designs until Sarah readily approved them during our subsequent meeting.
Workmanship Comes Alive
Following approval came execution - another arena where Creative Design & Build shines unnervingly! With neat precision and timely expedition unparalleled among kitchen remodeling contractors in San Diego County, old cabinets were dismantled without causing any disturbance to Sarah's routine or existing structures. The transformation unfolded as smoothly as envisaged - beautiful white wood cabinets fitted flawlessly into their respective spaces aligning perfectly within the heartland of Sarah's kitchen. Complexity gradually blended into simplicity before our very eyes. But no job ends at installation when you're among premium bathroom and kitchen remodeling experts in San Diego County. Post-installation cleanup is part of our protocol because we believe that professional service involves leaving no trace except spectacular results.
The Reveal: Customer Satisfaction Realized
After the final layer of dust was swept away revealing a resonating shine from brand new cabinetry installed adeptly by seasoned professionals, we took a step back to admire this transformational journey from dated designs into chic contemporaneity. A final inspection ensured everything was in perfect order; from alignment to hardware installation and functional performance. To say that Sarah was "pleased" would be an understatement – she absolutely loved her kitchen's new look! She couldn't get enough of those soft-close drawers or that particularly nifty spice rack neatly tucked at arm's length providing effortless access. "Magic", "Spatial illumination", "functional", "modern", "finally makes me want to start cooking!" - An excited cascade of impressions flowed unabated as we reveled silently in her clear contentment. Achieving this gratifying nod matters significantly to us here at Creative Design & Build; to know clients like Sarah feels heard and serviced satisfactorily is why we adore doing whate ver we do! We don't just remodel homes; your dreams inspire us to engineer living spaces brimming with comfort and style right here in sunny California.
Location:
---
CA, USA